Shailene Woodley Wants Another Crack at Spider-Man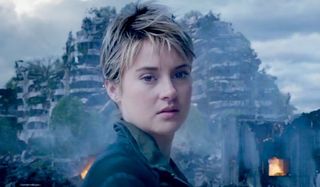 Apparently Shailene Woodley hasn't been keeping up with the latest superhero movie news because she had no idea that Sony and Marvel announced a new take on Spider-Man for the MCU. When she was finally told the news recently, she was intrigued. The Insurgent star was originally cast as Peter Parker's redhead love interest Mary Jane Watson in The Amazing Spider-Man series of films, but was later cut from Marc Webb's The Amazing Spider-Man 2. Could she somehow play a role in the next standalone Spider-Man movie from this joint venture?
Clevver Movies caught up with the star at a recent Insurgent press event and asked her if she was interested in finally getting to play Mary Jane on the big screen. After getting over the initial shock there being a new Spider-Man coming our way, she expressed her interest in returning.
We're still trying to figure out how one of the biggest young Hollywood actresses didn't know about this major superhero deal. But I guess it's expected from Woodley, who admitted to being somewhat of a couch-surfing vagabond a few years ago on Late Night With Seth Meyers. She also likely was heavily involved in Insurgent filming. But we digress.
Woodley was originally supposed to appear as Mary Jane in Marc Webb's Amazing Spider-Man 2. She even filmed her scenes and appeared briefly in the trailers. (It was a back shot, so you could've easily missed her.) Unfortunately, there was a lot going on in the sequel already: Andrew Garfield's Spider-Man continued his search for answers surrounding his parents' disappearance; Paul Giamatti's Rhino was rampaging for a hot second; Jamie Foxx's Electro was going haywire; Dane DeHaan was transforming into the demonic Green Goblin; and, of course, that thing that happened to Emma Stone' Gwen Stacy at the end. Given all these factors, the producers thought it best to save Shailene Woodley's debut for a later time. Now that Sony has completely changed its plan of action for the franchise in teaming up with Marvel Studios, the next Spider-Man movie probably won't feature her.
As Clevver Movie points out, Marvel and Sony are trying to forget that the Amazing Spider-Man films even happened. For one, they're looking to replace Garfield with a teen star, and The Maze Runner's Dylan O'Brien is one of the more talked about contenders. Before the first Spider-Man film from Marvel and Sony hits theaters on July 28, 2017, the web-slinger is presumed to make his first appearance in Captain America: Civil War, the events of which will no doubt have a hand in the plot for this solo outing. Even though the odds don't seem to be in Woodley's favor, she doesn't really need Spider-Man. She's friggin Tris, for crying out loud.
Your Daily Blend of Entertainment News
Your Daily Blend of Entertainment News
Thank you for signing up to CinemaBlend. You will receive a verification email shortly.
There was a problem. Please refresh the page and try again.