Shannon Woodward Joins Emma Roberts And John Cusack In Adult World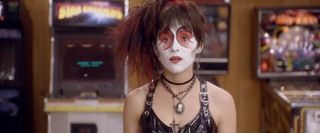 Shannon Woodward, who has brought some serious snark and sassiness to television's The Riches and Raising Hope, has just signed on to star opposite Emma Roberts in the coming-of-age comedy Adult World. Penned by Andy Cochran, this female-fronted feature is meant to satirize the contemporary post-graduate delirium that afflicts so many twenty-somethings with existential crisis and ennui. Woodward and Roberts will portray a pair of jaded roommates who bond over their shared disgust of the world at large. Early reports suggest the film will center on Robert's role, an aspiring poet named Amy, who believes she is destined for greatness yet ends up getting a day job at an adult book store—hence the movie's title. Meanwhile, Woodward will play her surely surly gal pal Candace, who Deadline describes as "a punk/goth anarchist sporting a nose ring and a Ramones shirt."
I don't know about you, but that string of descriptors makes me cringe. That's not really a character description as much as a verbal sketch that applies to most Hot Topic employees. And as much as I like Roberts and Woodward, neither has had a solid track record when it comes to picking movie projects, so I'm not terribly enthusiastic about the prospects of Adult World. Plus, the plot seems eerily familiar to that of the main character of the web comic Girls With Slingshots, who is an aspiring writer who struggles to make ends meet until she gets a job at –you guessed it!—her local sex shop. For the record, that comic is incredible—though sometimes NSFW—but this similarity doesn't suggest Adult World has anything fresh or intriguing going for it. At this point this project just sounds to me like a mash-up of half a dozen other twentysomething stories.
Also on board for Adult World is Evan Peters (Kick-Ass) and John Cusack. Peters is slated to play a character named Manny, who with no others details offered, I am assuming has a crush on Robert's character to which she is either oblivious or uninterested. Cusack, on the other hand, will play Rat Billings, a poet who Amy counts as her personal idol. As this is to be a coming-of-age tale and his name is Rat, I'm willing to bet Cusack will be playing a dastardly cad who offers a rude awakening of some sort to its arrogant heroine. Maybe in the vein of the Rex Manning seduction scene in Empire Records?
Adult World is now shooting in upstate New York and is expected to score a release date later this year.
Your Daily Blend of Entertainment News
Staff writer at CinemaBlend.
Your Daily Blend of Entertainment News
Thank you for signing up to CinemaBlend. You will receive a verification email shortly.
There was a problem. Please refresh the page and try again.