Showgirls 2 Trailer Combines German Porn With Las Vegas Tourism Footage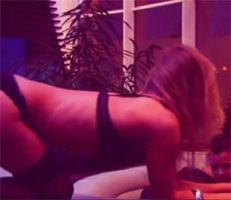 A trailer exists for something which appears to be a sequel to Showgirls. Except, though the film bears the name Showgirls: The Return and its trailer exists on the domain name Showgirls2.com, it has almost nothing in common with the now almost infamous Elizabeth Berkley movie. Instead, the trailer appears to be a bizarre mix of bad German porn and leftover footage stolen from the Las Vegas tourism bureau.
Whatever this movie is, the trailer is definitely NSFW and utterly unsuited for anyone under the age of 18. It begins with a naked woman flopping out of a tub and then slithering along the floor like an earthworm until she's bludgeoned to death by another woman in a towel. Then it just sort of goes on like that, mixing in random lesbian sequences with bar scenes, all without dialogue until someone finally says something and it ends.
The sequel's link to the original film is a very minor character named Hope, once played by Rena Riffel. In theory this followup is a movie about a brother investigating the death of his stripper sister, who overdosed on cocaine (according to JoBlo). However, if there's a plot, it's not in the trailer. But enjoy the random sequel nudity in age restricted format below or on the official site where it auto-plays without a pause button. You've been warned!
Your Daily Blend of Entertainment News
Thank you for signing up to CinemaBlend. You will receive a verification email shortly.
There was a problem. Please refresh the page and try again.