Shrek 4 Will Be A Prequel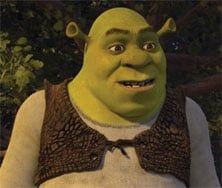 Shrek and Fiona have gone through all the major relationship phases except death on screen. Courtship, dating, marriage, and now with Shrek the Third we've covered having kids. So what's left for the green ogre should DreamWorks push for a fourth film? A prequel.
DreamWorks head Jeff Katzenberg recently spoke out about the future of Shrek and says Shrek 4 will be an "origin story". The fourth movie will explore where Shrek came from, demystify him, and probably squeeze whatever it is that's fun in the character right out of him. That's usually all prequels are good for.
Right now Shrek 4 is still in the early stages of pre-production. Josh Klausner is currently they man DreamWorks has tapped to write it, but Shrek the Third was written by a long list of names and committees so don't be surprised if Shrek 4 goes through a similar, creativity destroying process before we see it.
I hate that I sound so bitter about Shrek now, but this franchise is totally out of gas. Shrek the Third really was that bad. Kill it now DreamWorks. Please kill it now.
Your Daily Blend of Entertainment News