Sienna Miller, Ben Foster And More Do Drugs For Yellow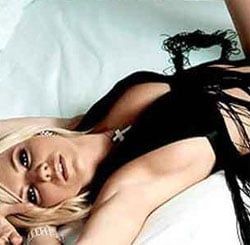 Director Nick Cassavetes has drawn in a strong, multi-generational cast for his new film Yellow. Production Weekly says Sienna Miller, Lucy Punch, Ben Foster, Gena Rowlands and Melanie Griffith have all signed on to the film.
Plot details are scarce, but we do know that the story focuses on a female drug addict who must also negotiate a life full of other problems. The last big Hollywood project I remember with serious drug addiction as a tangential side-issue was 21 Grams, where Naomi Watts' bereaved wife and mother sniffs cocaine in between bouts of extreme anger and grief. That film was a knife to the wrist and a noose to the neck.
Wild speculation leads me to tag Miller as the female druggie, something that may not be the biggest stretch for her. Depicting a sympathetic drug addict, however, could be a stretch. The really good news here is that Ben Foster figures into what will probably be a bleak and emotionally tumultulous film. He's been pigeonholed too many times as the livewire hothead (3:10 to Yuma, Hostage), but finally let that rage breathe as a fully realized character in The Messenger. As an actor, Foster is basically Ryan Gosling with a more troubled past. It's time he got roles that let him it.
Your Daily Blend of Entertainment News
Thank you for signing up to CinemaBlend. You will receive a verification email shortly.
There was a problem. Please refresh the page and try again.