Sienna Miller Joins Rom-Com Monstrosity New Year's Eve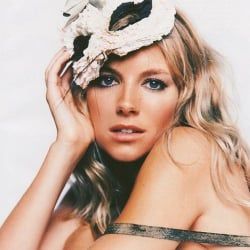 New Year's Eve, the great romcom monstrosity that will help us herald in the promised apocalyptic year of 2012 when it hits theaters on December 9 this year, keeps snapping more actors into its massive maw. According to Variety, actress and tabloid fixture Sienna Miller has hopped on board, joining a cast that already includes Jessica Biel, Abigail Breslin, Robert De Niro, Ashton Kutcher, Sarah Jessica Parker, Michelle Pfeiffer, Til Schweiger and Hilary Swank.
Miller is a Londoner by birth but has spent a fair amount of time in New York City, where the movie is set, including a run on Broadway in 2009 with After Miss Julie. Variety isn't saying which role Miller will play, but it's a safe bet she'll be yet another one of the lovelorn New Yorkers looking for someone to kiss at midnight on New Year's Eve. It's like they're making a movie about an entire city full of Harrys and Sallys trying to find each other when the clock strikes midnight. Then again, given how much that movie is still well-loved, that's probably not the worst idea I've heard. The movie is set to start shooting in New York shortly, so I'll let you know if I walk past any climactic kisses on my streets in the next few months.
Staff Writer at CinemaBlend
Your Daily Blend of Entertainment News
Thank you for signing up to CinemaBlend. You will receive a verification email shortly.
There was a problem. Please refresh the page and try again.