Sin City 2: A Dame To Kill For Trailer Wants To Get Hard Boiled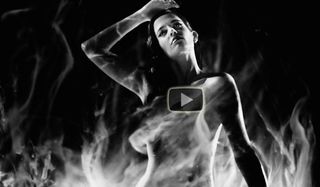 It's time to prepare your return trip to Sin City. Above is your peek at Robert Rodriguez and Frank Miller's Sin City: A Dame To Kill For. The long-in-development sequel arrives nine years after the first film, and yet it feels as if everyone has just stepped out of the first film and resumed their roles (though Bruce Willis looks, predictably, considerably older).
Again we're looking at multiple stories, using the 1993 graphic novel as partial inspiration. The title story is actually a prequel, revisiting Dwight, the character played in the first film by Clive Owen. This time around, the part is essayed by Josh Brolin, and he's lassoed into a revenge plot that involves the towering gangster Manute. Like Dwight, Manute has a different look, as Dennis Haysbert steps in for the late Michael Clarke Duncan. The titular dame, Ava Lord, is played by Eva Green, who has already driven the MPAA a titter with her questionable wardrobe choices in the ad campaign. The MPAA, getting' in yo' posters, policin' yo' bodies.
The trailer begins, however, with a snippet from The Long Bad Night, an original tale written specifically for the movie, and featuring Joseph Gordon-Levitt as cocksure card player Johnny. Matching up with Senator Roark (Powers Boothe) ends up being a bad idea, as Nancy (Jessica Alba) also finds out, still having struggled with the loss of her protector Hartigan (Bruce Willis). Revisiting Hartigan as well as Mickey Rourke's clay-faced Marv seems like material that takes place during the original Sin City – Marv's new story is Just Another Saturday Night, borrowed from Sin City: Booze, Broads, & Bullets. Which is only the subtitle to one Sin City volume, and not all of them.
Of course, if the cast list is to be believed, there are people we're not seeing. Where is Lady Gaga, who also appeared in Robert Rodriguez's Machete Kills? Or Ray Liotta and Jeremy Piven? We did catch Julia Garner, in color, as Marcy, with Jamie Chung standing in for Devon Aoki as Miho. Oh, and who is that giant potato head gangster? I wanna say Stacy Keach. That seems like a very Stacy Keach thing to do.
Interesting how the trailer ends on "Written by Frank Miller," for a few reasons. For one, Miller's reputation has changed considerably since the first Sin City movie. He parlayed his co-directing job into The Spirit, which was funny and bizarre and clearly directed by a man who knew absolutely nothing about film directing. Since then, he's ostracized himself from fans with increasingly provocative and aggressive right-wing statements and confrontational comments that seem to mock fans and their favorite characters. For another, Miller and Rodriguez were supposedly sharing writing credits with William Monahan, the Oscar-winner who penned The Departed. It was unusual that such a big name would be brought in on the sequel to something so distinctly in Miller's image. Did Monahan's contributions not make the final cut? Find out when Sin City: A Dame To Kill For hits theaters August 22nd.
Your Daily Blend of Entertainment News