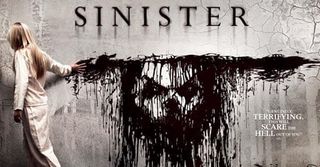 Producing horror movies on micro-budgets has proven good business for Blumhouse Productions, the company behind the Paranormal Activity franchise. Last fall they debuted the slick mystery horror story Sinister. The $3 million dollar movie from Scott Derrickson and C. Robert Cargill not only won rave reviews from critics, but also earned a whopping $77 million worldwide. So, it's no surprise that Blumhouse is looking to build a new franchise from this solid base.
Deadline reports Derrickson and Cargill, who wrote the first film together, are back on board for the sequel as writers. Derrickson will also produce, and is in talks to return to the directors chair. As to cast that might return (spoilers ahead if you haven't seen Sinister), it wouldn't make sense for Ethan Hawke to return, though it seems likely we'd see little Clare Foley again in some capacity. No details are being dropped on where the sequel might lead, but based on the first film, it's pretty easy to guess.
Again, spoilers ahead, but really, if you haven't seen Sinister, I don't know why you'd be reading this.
Anyhow, in Sinister, Hawke starred as Ellison Oswalt, a formerly famous true crime novelist in desperate need of another hit book. So, he moves his family to another town with a savage and unsolved murder mystery. Moreover, he moves them into the house of the victims. Trying to uncover what happened to the family who was mercilessly murdered where his now lives, Oswalt uncovers a ghostly serial killer who torments families into fleeing to a new home…then invades once more to kill them. It creates a ghastly pattern that was completed in the film's final act, leaving the Oswalt home vacant, and ready for its next unwitting victims.
Looking back, it's obvious Derrickson and Cargill left themselves a door to a possible franchise. Of course more of the same won't be good enough for horror fans the second go 'round. But I'm not worried. The first film showed both of these writers to have a deep respect for the horror genre as well as an intriguing and sick imagination. So, I'm confident that with this sequel they'll take the opportunity to dig deeper, and show us something freshly terrifying.
Staff writer at CinemaBlend.
Your Daily Blend of Entertainment News
Thank you for signing up to CinemaBlend. You will receive a verification email shortly.
There was a problem. Please refresh the page and try again.