Skyfall's Ben Whishaw Is Queen's Pick For Freddie Mercury Biopic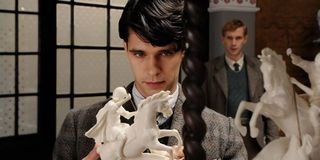 American audiences might recognize British actor Ben Whishaw as the impulsive romantic Robert Frobisher of Cloud Atlas or as Q from the James Bond thriller Skyfall, but to the members of Queen, he might just be the perfect performer to play Freddie Mercury. THR reveals Whishaw is at the top of the band's wishlist, something drummer Roger Taylor divulged on BBC One's One Show while doing press for the release of his latest solo album.
Taylor has been overseeing the project with guitarist Brian May for years at this point. The pair have been pretty hard to impress when it's come to casting. But asked who they were hoping might sign on, Taylor gave a hint that his initials were "B.W." Pressed on if this meant Ben Whishaw, Taylor admitted, "Well, we hope so."
Word of this biopic first surfaced in 2006, when Johnny Depp was rumored for the role of the iconic Queen frontman. Four years passed with no news on the Mercury biopic, then eyebrows were raised when Sacha Baron Cohen was attached to front the feature. While best known for his outlandish comedic turns in Borat and Bruno, this choice made some level of sense as Cohen does dive deeply into his roles and has shown singing skills in Sweeney Todd and Les Miserables. By the fall of 2012, the film penned by The Queen scribe Peter Morgan was said to be going into production the following spring, even though no director was yet on board. But spring came and went, and then with the summer came word that Cohen had exited the project over creative differences.
At the time, it was said that Queen's members were angling for a PG approach to the story of the rock god known for his incredible voice and sexy swagger, while Cohen wanted a grittier R-rated look into the gay star's life. But speaking to Classic Rock magazine May suggested the real issue was that Cohen is too big a star for the part, saying, "We thought there has to be no distraction in the Freddie movie. You have to really suspend that disbelief -- the man who plays Freddie, you have to really believe is Freddie. And we didn't feel that could really happen with Sacha."
While it bodes well for Whishaw that he has May and Taylor's backing, it's unclear how much closer the Freddie Mercury biopic is to actually getting made. One big step the untitled project still needs to take is nailing down a director. Back in 2012, The Queen's helmer Stephen Frears was being eyed for the gig. Then following the release of his movie adaptation of the Broadway sensation Les Miserables, Tom Hooper was reportedly offered the project, but no mention of either auteur is made in THR's latest report. In the meantime, let's revel in Mercury's legacy with this live performance of "Bohemian Rhapsody."
Staff writer at CinemaBlend.
Your Daily Blend of Entertainment News
Thank you for signing up to CinemaBlend. You will receive a verification email shortly.
There was a problem. Please refresh the page and try again.