Will Smith Has Some Fascinating Comments About Jared Leto's Joker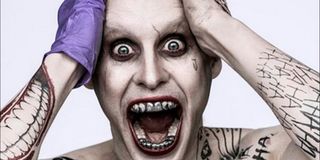 We've heard comments from the Suicide Squad cast members that Jared Leto attacked his role of The Joker with a full-on Method approach. As it turns out — though to no surprise, if you know a thing or two about Leto as a person — the method was a bit more intense than we originally thought.
Will Smith, who plays DC villain Deadshot in the David Ayer film, spoke about Suicide Squad on Apple's Beats 1 radio show the other day. With regards to Leto, he said,
If you've been keeping track of the latest updates on the film, this isn't that shocking. Leto previously sent Margot Robbie, who plays Harley Quinn, a love letter and a rat; he sent bullets to Will Smith; and Jai Courteney, who plays Captain Boomerang, said he hasn't "seen him, since we started working, out-of-character." So this latest comment from Smith seems to be in line with Leto's #SquadGoals. If you have the time, watch Smith's full chat on Beats 1 below.
Jared Leto succeeds the late Heath Ledger, who portrayed the Gotham madman in Christopher Nolan's The Dark Knight, and the Oscar winner had to find some way, other than his look, to differentiate his performance from Ledger's. Recently, during a Q&A session at Dubai Music Week, the actor remarked,
Despite all the reports about Leto's Joker, the character doesn't seem to be a major part of the film, at least according to reports. Be wary of potential spoilers from Suicide Squad, but word on the street is that Joker spends most of the film behind bars, while the main Squad-ers take the spotlight. The early footage from Comic-Con — though early — seems to bolster these claims. The film also features Viola Davis as Belle Reve Prison warden Amanda Waller, who enlists a group of supervillain convicts into executing secret missions for the government in exchange for reduced jail time. Members of this group include Joel Kinnaman as Rick Flagg, Adewale Akinnyoye-Agbaje as Killer Croc, Adam Beach as Slipknot, Jay Hernandez as El Diablo, and Karen Fukuhara as Katana. Elsewhere, we see Cara Delevigne as Enchantress and Ben Affleck reprising his Batman role after Batman v Superman.
Suicide Squad will hit theaters on August 5, 2016.
Your Daily Blend of Entertainment News