Suicide Squad: Just How Insane Is Jared Leto's Joker?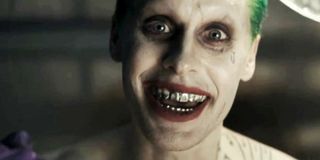 While Batman V Superman: Dawn of Justice may be the next highly anticipated DC movie coming out over the next year, the performance that seems to have most people excited is Jared Leto's take on The Joker in Suicide Squad. It doesn't help that the actor has continuously teased fans about just how far off the rails his version of the Clown Prince of Crime will be. But just how crazy will our new Joker be?
According to Heroic Hollywood, at a recent concert for his band 30 Seconds to Mars, Leto addressed the crowd about his excitement for Suicide Squad:
While this does not necessarily provide us with much insight regarding how Leto will bring the character to life, it seems to indicate that insanity will be the name of the game. Leto's on-set antics as The Joker have already made headlines over the last few months – such as sending live rats to his Suicide Squad cast mates. Leto's commitment to the character reportedly went too far and so off the rails that Margot Robbie felt genuinely afraid of him while on set. That's dedication. Given the fact that The Joker will reportedly play a "Hannibal Lecter" role in Suicide Squad, and we will get a glimpse of what he did to Harleen Quinzel to turn her into Harley Quinn, it seems as though Suicide Squad will provide the most in-depth look into Joker's psyche that movie audiences have ever seen.
Every iteration of The Joker is insane in some sense of the word, but his characterization has most certainly changed from version to version. Cesar Romero's Joker always seemed like a loveably looney cartoon – a throwback to the Silver Age Joker. Jack Nicholson's Joker played like an unhinged extension of the actor's already unhinged personality. Heath Ledger's Joker always felt less like a crazy person, and more like a brilliant anarchist, steadfast in his beliefs. Perhaps the craziest version of The Joker to grace our screens to date came in the form of Mark Hamill's iconic portrayal of the character in Batman: The Animated Series – and subsequently in the Arkham games. However, just going off of what everyone has to say about Jared Leto's take on the character, we may soon have a new Joker upon which all others are compared.
David Ayer has done a remarkable job of keeping Jared Leto's Joker under wraps. Beyond minor glimpses from the trailer, we will have to wait and see what Leto does with the role when Suicide Squad hits theaters on August 5, 2016.
Your Daily Blend of Entertainment News
Originally from Connecticut, Conner grew up in San Diego and graduated from Chapman University in 2014. He now lives in Los Angeles working in and around the entertainment industry and can mostly be found binging horror movies and chugging coffee.