Solid Snake Sneaking To Screens?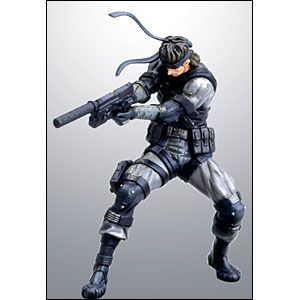 The weekend box office proved audiences are wary of Uwe Boll and his videogame adaptations. BloodRayne barely made a mark on the box office and the ticket I bought to review the movie accounted for a large percentage of the picture's take. That isn't stopping Boll from moving ahead with other projects.
The crew at Bloody-Disgusting.com spoke with Boll about his upcoming projects where he declared the emotional weight of his next film (an adaptation of Dungeon Siege) and made a rather startling announcement:
"Now people are coming to me with metal gear solid. They wrote a script, and Konami basically paid these people to write it. And I hope that Metal Gear Solid will be working."
Metal Gear Solid? That's a pretty hefty franchise to be given to Dr. Boll for his movie machinations. The videogames themselves already carry a pretty hefty storyline, and with the stealth factor of the storyline Boll would have to limit his tendencies for blood sprays and never ending music throughout his movie.
I can't believe Konami would hand over such a well known and fan-loved franchise like Metal Gear to such a notorious filmmaker. At the same time, it wasn't long ago that Boll was declaring he was making the Halo flick which has not only been proven wrong, but turns out to be in much better hands. Hopefully Solid Snake's missions will prove to be the same. I'm really hoping Boll's days of crap-filmmaking are numbered and that Metal Gear Solid lies beyond those numbers.
Your Daily Blend of Entertainment News
Thank you for signing up to CinemaBlend. You will receive a verification email shortly.
There was a problem. Please refresh the page and try again.