Some Of Dallas To Shoot In Dallas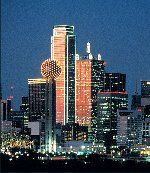 There's been a big push in Texas to get the upcoming Dallas movie actually filmed in the city after which it's named. You'd think that would be a given, after all, what better place to represent Texas on screen than the Lone Star State itself. But Hollywood loves using stand-ins for major cities, and if it's more cost effective, well you never know when a movie like Dallas might just end up being filmed in Vancouver.
In this case though, they're actually going on location to the right location… sort of. The upcoming film version of the popular 80s soap is happening, and when shooting commences some of it will happen in Big D. But not most of it. 20th Century Fox, the studio financing the star studded film, confirmed to the heavily campaigning Dallas Film Commission on Monday that at least one-third of the movie will be shot in Dallas, Texas. Most of the rest, weirdly enough, will be shot in Shreveport, Louisiana.
How does Texas lose a movie about itself to a neighboring state with lax gambling laws and a severe gator problem? In March the city of Dallas started a "Shoot JR in Dallas" promotional campaign to lure in Fox's money, but they really didn't have much to offer beside authenticity and a few silly t-shirts. Texas isn't exactly business friendly these days, tax incentives are few, and industry experts say that's probably what's to blame.
Still, Dallas is considering this a win. The Dallas Morning News estimates that even four weeks of shooting could give the city a $30 million infusion of cash into the economy. The current budget for Dallas is around $70 million. How much of that the city of Dallas gets depends on which parts are actually shot in my home town and which stars show up. It could well end up being 4 weeks of cityscapes and nothing else. It'll be hard to shoot exteriors in Louisiana after all, unless Hollywood is now trying to pass Dallas off as a stinking swamp.
As someone who actually lives in the sprawling urban rot of the Dallas-Fort Worth metroplex, I can understand why someone might not want to come here. There are days (usually in the midst of my one hour, twenty mile commute) when I wish I wasn't here myself. But if there was ever a time to shoot a movie in the place it's actually set, well this is it. The city's actually in the name! Tax incentives or not, to me doing anything but shooting most of it here doesn't make a lot of sense.
Production is expected to start on Dallas this October, with shooting to begin in Dallas and then move down the road to Shreveport. Already confirmed in the cast is John Travolta as J.R. Ewing with Jennifer Lopez as his big-haired bride and Luke Wilson as his younger brother Bobby.
Your Daily Blend of Entertainment News