Someone Put A Giant, Cocaine-Snorting Oscar Statue On Hollywood Boulevard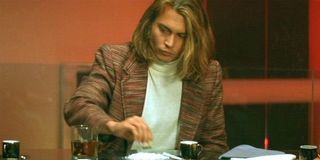 The glitz and glamour of Hollywood's most star-studded awards night may seem to be a caste-corralling occasion enjoyed by the obscenely rich and famous who society has, for whatever reason, granted a super sense of self-importance. However, leave it to the ilk known as conceptual artists to break down those barriers. A stir has been created after one artist's creation, put on Hollywood Boulevard, depicts a life-sized Oscar statue on the ground, snorting cocaine. Get it? Because rich celebs are known to do that!
According to The Hollywood Reporter, an artist going by the holy, highly collectible moniker Plastic Jesus (not to be confused with "Ceramic Jesus") has managed to inject himself into the Oscar conversation with his latest provocative piece depicting a desperate, naked Oscar statue on the ground getting set to ride some white nose rails. He's on all fours, seemingly trying to work through the logistics of bringing that nose candy home.
Displayed on Thursday on La Brea Avenue on Hollywood Boulevard, the coke-crawling Oscar is set on a fancy elevated red carpet-style dais with a golden plaque on the front reading, "Hollywood's Best Party." According to the conscientious creator, the piece was created with the intention of spotlighting a seemingly epidemic amount of drug addiction that is apparently rampant among the circles of Hollywood's elite. As Plastic Jesus told THR:
All kidding aside, it may be a bit of a generalization, but he's probably not wrong in the idea of drug addiction being a "hidden" issue; especially seeing as it's usually assumed to be a complicated situation with younger, naïve celebs. If rumors are to be believed, drugs seem to come to these talented artists, rather than with normal addicts who tend to seek drugs out.
This is actually not the first such abstract statuesque statement that Plastic Jesus has made. He pulled off a similar bit of exhibitionism last year with another satirical 8-foot Oscar statue with a needle in his arm; a clear commentary on the then-recent overdose death of Philip Seymour-Hoffman.
These statues are probably a concept that perilously walks the line between satire and the boundaries of good taste, but they at least carry a positive message at their core. Plus, they certainly are something that gets people refreshingly talking about things other than snubs, Best Picture odds and "who's wearing what?"
Your Daily Blend of Entertainment News