Sony Is Turning This Awesome Sci-Fi Comic Book Into A Movie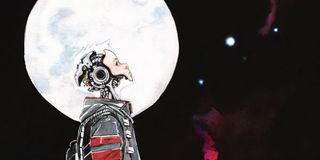 A highly-anticipated comic book is currently in the works, and the excitement for it is already so high that a competitive bidding war for the movie rights went down. Sony came out on top, winning the movie rights to the sci-fi comic book, Descender written by Jeff Lemire and drawn by Dustin Nguyen.
The film will be produced by Josh Bratman along with the artist and writer of the comic attached to executive produce. The comic is a space opera which tells of a time where all things android, robotic or with artificial intelligence are hunted down and destroyed by bounty hunters. So of course, there is one robot who becomes completely self-aware and he sits at the center of the whole story. This extremely lifelike robot called TIM-21 lives on a distant mining colony and soon becomes the target of a galaxy wide pursuit. Because of his lifelike qualities, he is believed to hold some sort of key to the destruction of the galaxy, so TIM-21 bands with a group of unlikely companions to head out on the run as they travel from planet to planet.
The first issue of Descender has yet to release, and will be published by Image Comics on March 4th. But, it promises a heart-felt cosmic adventure, brought to life by the talented, New York Times bestselling author and comic artist. Author Jeff Lemire is best known for his original works, Sweet Tooth, Essex County, The Underwater Welder and Trillium which demonstrate moody and humanistic stories. He also had a run at DC's Green Arrow and is about to start writing Hawkeye for Marvel. On the other hand, comic artist Dustin Nguyen is well known for his work on American Vampire as well has numerous Batman titles.
After the bidding war for the movie rights to their comic ended, Nguyen and Lemire spoke with Coming Soon about their excitement.
The project will be overseen by Michael De Luca, the producer behind many big films as of late, including Dracula Untold and Fifty Shades of Grey and Rachel O'Connor. And while there most likely won't be any news on production or release dates until after the release of the comic book series, it is an exciting prospect that a studio as big as Sony is taking a chance on an independent comic book even before it has been released to the public. Image Comics (I'm totally biased by my extreme love for them) produces some incredibly unique and thoughtful stories that often don't gain the cult-following as classic Marvel and DC characters do. So it's a step in the right direction when you see one of their highly-anticipated comics exciting many different branches of the entertainment industry.
Your Daily Blend of Entertainment News