Sorry Everyone, George Clooney Won't Be In The DeLorean Biopic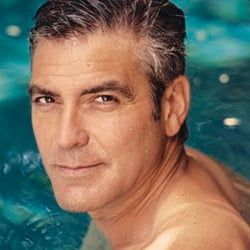 The rumor that hit yesterday about George Clooney possibly starring in a biopic about car manufacturer John DeLorean always seemed a little fishy, and now we know not to put any faith in it at all-- The Playlist got in touch with Clooney's rep, who told them simply, "He has no involvement. The story is not true. He knows nothing about this."
Things only get more confusing when you consider that three are three separate DeLorean biopics in the works right now, one from producer David Tobak, another produced by Brett Ratner, and another put together by DeLorean's children. Clooney was rumored for the Permut project, which also has James Toback on board as a screenwriter and has been around longer than most of the others. It would have been a good sign to get Clooney on board to star, since starpower goes a long way in getting a film made, but now all things seem to be equal between the three projects. Hopefully one of them will break out of the pack soon enough so we can stop reporting on all three and just focus on a single movie that's actually getting made.
Your Daily Blend of Entertainment News
Staff Writer at CinemaBlend