Speed Racer Comes To Zac Efron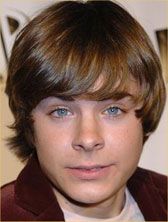 The Wachowski brothers may have found their Speed Racer. Celebrity gossip site Just Jared says High School Musical star Zac Efron is in consideration to jump in the driver's seat on the film and take the lead role of Speed.
Apparently the rumor comes from Efron leaving the High School Musical 2 set to show up for a Speed Racer callback not long ago. So while that likely means he's in contention, it doesn't mean he has the part. He's just a possibility at this point.
Since making Disney a wheelbarrow full of money in High School Musical, Efron has managed to land a part in Adam Shankman's star-studded new version of Hairspray. He's also working on the aforementioned High School Musical 2. If he get Speed, it'll be a pretty big career step for him. Can he play him? I think the real question is who cares. Does anyone actually like Speed Racer? I don't understand why I have to waste time writing about it.
Now that I've said that the movie will of course, make $500 million. You can thank me later Warner Brothers.
Your Daily Blend of Entertainment News