Spider-Man Broadway Musical Delayed Yet Again Until January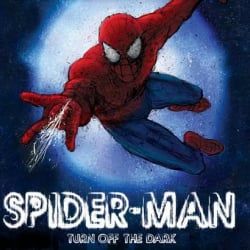 We've reported from time to time here on the progress of Spider-Man: Turn Off The Dark, a musical take on the superhero from The Lion King's Broadway mastermind Julie Taymor, with music and lyrics by Bono and the Edge. The musical has been nearly as troubled as Sam Raimi's attempt at Spider-Man 4, delayed several times thanks to financing issues and a whole host of other problems. I've said for years I'd believe the musical would actually happen only on opening night, even when all signs were pointing to an opening this November 14-- they even showed off a few songs on Good Morning America a few months ago, proving that Taymor wasn't just spending that $60 million budget on increasingly extravagant Spandex suits.
Turns out, though, I was right to hang on to my skepticism-- the play's opening has been delayed yet again, to early 2011, after they were unable to perform several stunts for the approval of the Department of Labor, who can shut down production if the stunts are deemed to be unsafe. According to The New York Times, they've got plenty of reason to be concerned-- two actors have been injured performing separate stunts during rehearsals. Not only that, but the songs still aren't synchronized to the special effects, they haven't set all the scene-to-scene transitions, and nobody even knows how long the thing will be.
Spider-Man is the most expensive musical in Broadway history by a long shot-- at $60 million, its closest competition is the $25 million Shrek The Musical, which played for over a year without ever turning a profit. It's tempting to rub my hands with glee and shout "I told you so!" about predicting Spider-Man's continued misfortune, but really, I'm as anxious as anyone else to see some good theater. If, in fact, this play is any good, we won't be able to get a look at it until November 28, which is when previews are now set to begin before the January 11 opening.
Staff Writer at CinemaBlend
Your Daily Blend of Entertainment News
Thank you for signing up to CinemaBlend. You will receive a verification email shortly.
There was a problem. Please refresh the page and try again.