Spider-Man Robbed A Store, Punched A Dude In The Face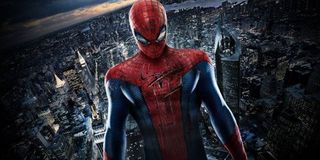 It sounds as if Peter Parker has fallen on hard times! Police have confirmed that a criminal wearing a Spider-Man mask robbed a store in Lewiston-Auburn, Maine, early on Monday morning.
Officers have revealed that they are currently on the hunt for a man that robbed a Big Apple store that is located on 296 Main St. in the twin cities. In order to hide his true identity the sneaky criminal donned a Spider-Man mask. He was probably hoping that Parker would get the blame. However this story does feature a rather terrifying detail as the thief threated the Big Apple clerk with a knife before he demanded the money in the store. Jason Moen, who is the Deputy Chief at Lewiston-Auburn, revealed further details surrounding the crime, explaining that the suspect made away with an undetermined amount of money and fled the scene of foot after the incident took place at 1: 54 am.
To prove that Spider-Man really has turned into dastardly villain, the criminal punched a male customer, who was in the store at the time of the robbery, in the face after he followed him into a nearby park. Police are continuing to investigate the horrific ordeal and, according to the Lewis-Auburn's Sund Journal, the suspect is "described as a thin, white male wearing a blue, hooded sweatshirt, dark pants and the mask. He is about 5 feet, 3 inches tall. He was last seen crossing the foot bridge into Lewiston."
Unfortunately there have been a variety of robberies over the last few years that have involved criminals wearing Spider-Man masks to cover up their faces. Do they not realize that they are damaging the good reputation that Peter Parker has spent the last few decades building up?
According to Comic Book Resources, back in September 2013 Jonathan N. Hewson, a 21-year-old student from Pittsburgh, was arrested and charged with one count of robbery after he entered a convenience store wearing a full Spider-Man costume and asked the clerk, "How much money you got?" Unfortunately for Hewson his Spider-Man suit didn't come with its own Spidey-senses included because he was unable to anticipate the clerk's "arching Taser" that he used to incapacitate the potential thief. Obviously that fact that Hewson was injured is regrettable, but it did result in the rather comical image of Spider-Man being hand-cuffed and lead to a police car. You can check it out in the video below...
Meanwhile in February 2014 a rather portly man in a Spider-Man mask was caught on camera robbing a bank in Pittsburgh. CBS Local reported that the assailant simply leapt over the counter, asked the teller to hand over the cash, and then left. He did this all while "wearing light pants, a black- hooded sweatshirt, and a Spider-Man mask."
Your Daily Blend of Entertainment News
Thank you for signing up to CinemaBlend. You will receive a verification email shortly.
There was a problem. Please refresh the page and try again.