Spielberg's The Adventures Of Tintin Already A Hit Overseas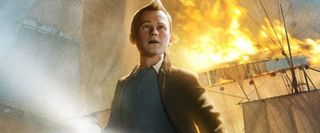 t's not that often that we pay attention to foreign box office here--apologies, but the bulk of the Cinema Blend staff is located in the States. Then again, it's not very often that an American movie opens in other countries first, especially several months before its U.S. release date, and especially one as high-profile as a new film from Steven Spielberg. But being that it's based on a comic strip character infinitely more popular in Europe than in the U.S., Steven Spielberg's The Adventures of Tintin: Secret of the Unicorn has already opened up overseas, and in a good sign for what we have to look forward to come December, is already doing quite well.
Things were already looking up when reviews first started coming in and were overwhelmingly positive, suggesting had made the kind of fun globetrotting adventure story he completely missed on with the fourth Indiana Jones movie. Now The LA Times reports that audiences also like that they see. Tintin opens in 19 foreign markets over the weekend and made an estimated $55.8 million, opening at #1 in 17 of those markets. In France it had the second-biggest opening weekend of the year, and it also did very well in Belgium, Spain and Britain.
The Times also has some interesting numbers that prove how much more it has to make before becoming a success-- they estimate that it cost its producers between $150 million and $175 million after tax credits, and another $100 million will go on top of that to market it. Most surprisingly, about 30% of Tintin's gross will go directly to Spielberg and Peter Jackson, who produced the first installment and plans to direct a second one if Secret of the Unicorn is a hit. That's an astonishingly large cut of the profits, but Spielberg and Jackson are pretty accustomed to making giant movies and making sure they get their fair share. And at the rate Tintin is going right now, they seem to have made a gamble on this franchise that paid off.
Secret of the Unicorn opens in the United States on December 21, which gives us just under two months to keep hearing about it from overseas and get excited for the comic character most of us had never heard of a year ago.
Staff Writer at CinemaBlend
Your Daily Blend of Entertainment News
Thank you for signing up to CinemaBlend. You will receive a verification email shortly.
There was a problem. Please refresh the page and try again.