Spike Lee Is Not Actually Feuding With Judd Apatow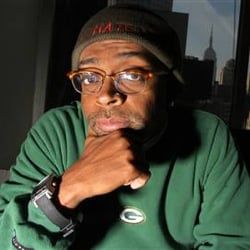 During a roundtable interview yesterday for Miracle at St. Anna, I could feel some journalists trying to provoke Spike Lee, to get him to say something as provocative as what he said about Clint Eastwood at the Cannes Film Festival. You know, where he complained about how Clint Eastwood never included black soldiers in his war movies, and Clint responded by telling Spike to shut his face? It was the best celebrity feud we'd had in ages, and it's been kind of sad since Clint and Spike made up.
Lee didn't fall for the bait yesterday, but he did apparently lash out for no real reason against Judd Apatow-- a director who doesn't only make movies vastly different from Lee's, but has never, to my knowledge, said anything about Lee whatsoever. The whole thing, as reported by Slashfilm, is in a New Yorker profile of Lee, where he's signing a poster to be hung up in the Sony Music Studio where he recorded music for Miracle at St. Anna. "Don't put us next to Judd Apapoe, whatever that guy is," Lee reportedly said. "We gotta be next to Spielberg and Williams!"
Like I said, it just hasn't been as much fun since the Eastwood-Lee feud ended. Clearly Lee isn't saying he hates Judd Apatow, as everyone seems to want to spin this. He's just trying to make people think of Miracle at St. Anna as important, like Saving Private Ryan and Schindler's List, rather than a non-epic like Knocked Up. I doubt even Judd Apatow thinks of his movies in the same league.
Granted, this is a stupid discussion-- it's hanging a poster, for God's sake-- but not exactly throwing down the gauntlet. Soon the Miracle for St. Anna press tour will be over and Spike Lee can get back to insulting other directors in the privacy of his own home, where no one will hear it and try to turn it into an international incident. Isn't there a financial meltdown out there to care about instead?
Your Daily Blend of Entertainment News
Staff Writer at CinemaBlend