Spike Lee's Oldboy Pushed Back A Month, To November 27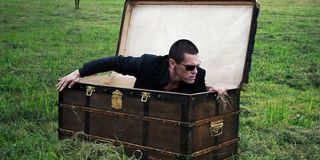 What does it mean when a film changes release date? Nothing, and everything, depending on how you look at it and what that change is. So you can choose to read nothing into the fact that Spike Lee's Oldboy has changed release dates from a planned October 25 bow to November 27, a full month-long switch that puts Oldboy in the thick of some serious competition. The Spike Lee-directed remake, of the beloved Korean original by Park Chan-wook, was originally set to open October 25, which it would have had essentially to itself when the next Paranormal Activity movie was bumped up to January. Then Paramount announced they'd replace the horror sequel with Jackass Presents: Bad Grandpa, in which Johnny Knoxville puts on old age makeup and rolls around cities surprising people.
Yeah, I have no idea why Spike Lee and Oldboy would be afraid of that either, but apparently the competition-- maybe for young men who want to see Josh Brolin kill someone with a hammer and Johnny Knoxville act ridiculous?-- is a little stiff. Now Oldboy will be bowing opposite a wide variety of competition. There's Black Nativity, the musical spin on the Christmas story that we know almost nothing about--beyond its IMDB page. The 300-pound gorilla of the weekend is Frozen, the animated film from Disney that's aiming squarely at the Wreck-It Ralph/Enchanted family hit territory (see more in its kid-friendly teaser). The big action competition will come from Homefront, the completely insane-sounding movie starring Jason Statham, Jason Statham and Winona Ryder, all in a single movie. And finally there's two big awards hopefuls, Mandela: Long Walk to Freedom and Grace of Monaco, two biopics opening in limited release and unlikely to make for a lot of competition.
So how about Oldboy? I'm doggedly hanging on to hope, despite the fact that the first trailer looked so disturbingly similar to the Korean original that I wonder if Spike Lee is actually adding anything new to the mix. It seems impossible that a director that iconoclastic would do a straightforward remake, but in a time that Lee is turning to Kickstarter to fund his next film, pretty much anything he does is hard to predict. Check out that disappointing trailer for Oldboy below, and set your mental calendar to expect it a month later.
Staff Writer at CinemaBlend
Your Daily Blend of Entertainment News
Thank you for signing up to CinemaBlend. You will receive a verification email shortly.
There was a problem. Please refresh the page and try again.