Spike Lee Is Releasing His New Movie In This Incredibly Weird Way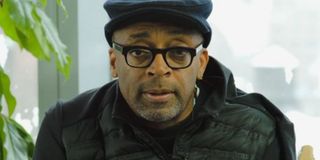 Do The Right Thing director Spike Lee isn't necessarily known for following the status quo. However, his choice to release his latest film Da Sweet Blood Of Jesus via Vimeo's Video On Demand (VOD) still definitely struck us as a bit odd.
Lee and Vimeo made the joint distribution announcement earlier this week, revealing that Da Sweet Blood Of Jesus would be available for purchase and rental starting immediately on the video-sharing site. With the growing popularity of movies hitting home release and VOD these days, the news wasn't all that shocking… aside from the Vimeo part.
Vimeo's General Manager of Audience Networks Greg Clayman appears to be thrilled with the deal, releasing a statement to voice the company's support of the project.
I was very familiar with Vimeo's seemingly endless supply of short creative videos and clips and even the occasional movie upload by a budding filmmaker, but a release from an accomplished director on the level of Spike Lee? Maybe we're on the verge of a bigger distribution transition that we think and Vimeo knows they better start dipping their toes in the water before it's too late. Maybe the whole Sony hacking fiasco and the resulting release of The Interview simultaneously in theaters and VOD truly was the beginning of a growing trend or maybe Lee was just made an offer he couldn't refuse. Regardless of the motives, this odd decision has definitely piqued our interest.
Spike Lee has echoed his own excitement of the release, and sees this form of distribution as progress. He said:
See his video pitch for Sweet Blood below.
Da Sweet Blood of Jesus is based on the cult horror film Ganja & Hess and is a comedy, romance and horror film all rolled into one. It centers on Dr. Hess Green (Stephen Tyrone Williams), who is cursed by art curator Lafayette Hightower's (Elvis Nolasco) ancient African artifact, thus inducing in him an endless thirst for blood. When Lafayette's wife Ganja Hightower (Zaraah Abrahams) becomes involved in a dangerous romance with Hess, the laws of nature, love, sex, addiction and status are questioned to the core.
The film was funded through Kickstarter and, according to Indie Wire, its North American rights were acquired in November by Gravitas Ventures. Production on Da Sweet Blood of Jesus was completed in 16 days on an estimated budget of $1.4 million dollars. It debuted on June 22, 2014 as the closing film at the American Black Film Festival and is now available for rental and purchase on Vimeo On Demand. Gravitas plans to release the film theatrically and further on VOD on Feb. 13, 2015.