Stan Lee Wants To Play Odin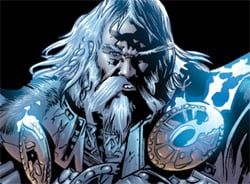 In an interview over at Collider, the eccentric and legendary Stan Lee gives us a few tidbits about what he'll be doing in the upcoming Iron Man 2, as well as what he'd like to do for Kenneth Branagh's Thor. This may be considered a light spoiler. It has nothing to do with the story, but if you're a purist then just click the little back button on your browser before it's too late.
Stan Lee, with a nod and a reply signifying that he may not have been all that excited about the idea, confirmed reports that he would be adding the role of Larry King to his laundry list of Marvel film cameos. Going to great lengths to make sure we know that it wasn't his idea, he had fun doing it, but wishes he could just have a bigger cameo already. Hint hint, Hollywood. Write him into a damn movie as an actual character so he can be all crazy and yell "EXCELSIOR!" every time something awesome happens.
The final bit of fun is trying to figure out if Stan Lee is joking about wanting to show up as Odin for the next in the dwindling list of Avengers set-ups, Thor. The interviewers are sort of giggling, but Lee brings it up twice that he was really upset that Branagh didn't even consider him for the role, which to me says that he really would like to flex his 86-year-old muscles and toss lightning down upon his enemies.
You can watch the interview over at Collider and experience the full glory that is Stan Lee. Even though he won't be playing a God, you can still bow before him.
Your Daily Blend of Entertainment News