Star Trek Into Darkness: Will There Be A Sequel, And Who Should Make It?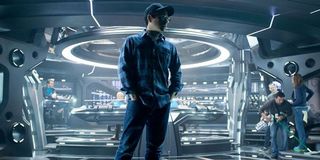 Star Trek Into Darkness is a hit. Not a giant hit, and not the kind of thing that has studios calling all of their rivals and screaming "Suck it!" while guzzling champagne at 8 a.m. (at least , that's how we picture it), but a big enough hit all the same. Especially when you account for its huge improvement with global audiences, Star Trek Into Darkness has done well enough to keep the franchise alive… which means, inevitably, it's time to start talking about sequels.
We were doing the same thing after the first Star Trek came out, but I think we can all acknowledge that speculation is a whole lot trickier now. The cast is committed to at least three films, but J.J. Abrams is now the x factor, running off to direct some other dinky sci-fi franchise and making no promises about how involved he'll be in Trek going forward. He was able to use his massive leverage with the studio to put four years between the Trek films, taking the time to make Super 8, produce a million things, and seal the deal with Star Wars. With Star Wars gearing up for production early next year, and possibly heading toward a 2015 release date, he could theoretically take the time to visit the galaxy far, far away then return to the Enterprise in time to get a third Trek out there for 2017. But does anyone actually think that will happen?
In trying to figure out why Into Darkness opened roughly exactly as well as Star Trek, some are speculating that the four years between installments tamped down the franchise's momentum (most series are put on an every-two-years schedule, and the Fast & Furious series is trying to make it a yearly thing). It's hard to imagine that, even if Abrams did want to come back to Trek after making Star Wars, the studio would be willing to wait for him. With the writers already cooking up ideas for a third film, the cast contractually obligated to return, and the return of Star Wars promising a lot of sci-fi franchise competition, Star Trek is probably going to want to act fast on that third film. So who could they bring in to get it ready for, say, 2015?
Abrams has a long list of previous collaborators he could hand the reins to, from Mission: Impossible-- Ghost Protocol's Brad Bird to Cloverfield's Matt Reeves to frequent Lost and Alias director Jack Bender. The problem is that Abrams has made them so successful they're all busy with other things. Bird is so entrenched in prepping Tomorrowland that he turned down Star Wars (presumably only after Abrams had turned it down the first time). Reeves is behind Dawn of the Planet of the Apes. Bender is making the highly anticipated Under the Dome adaptation for television. These are all good problems to have, but it makes it harder to know who would be Abrams's heir apparent in the Trek universe.
If you've seen Star Trek Into Darkness, jump in the comments and let us know where you want the story to go in the next installment-- especially keeping in mind writer Damon Lindelof's suggestion that Benedict Cumberbatch's villain could make a return appearance. If you can solve the trickier question of who ought to direct, throw that out there too. We might have a full four years to wait for another Trek movie, but speculation ought to keep us more than busy between now and then.
This poll is no longer available.
Your Daily Blend of Entertainment News
Staff Writer at CinemaBlend
Your Daily Blend of Entertainment News
Thank you for signing up to CinemaBlend. You will receive a verification email shortly.
There was a problem. Please refresh the page and try again.