New Star Wars 7 Feature Tells Us What We Need To Know About Rey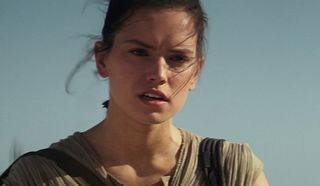 Even with all of the new footage and information clogging the airwaves, we still know relatively little about Star Wars: The Force Awakens, especially in regards to the new characters joining the saga. But if you're looking for a little bit more insight into Daisy Ridley's character, Rey, who looks to be one of, if not the main character in the latest Episode, check out this new featurette for a glimpse behind the curtain.
This video doesn't drop a whole slew of new details about Rey, and from the specifics standpoint, we walk away knowing just about as much as we did before: she's a solitary scavenger hanging out on the desert world of Jakku, and we see her hanging out with her droid BB-8, digging around a derelict Star Destroyer left over from a long ago battle, and getting into all sorts of trouble with John Boyega's Finn.
What we do get from this video, however, is more of a sense of her personality and a few hints at how the character's arc will progress. Much like Luke Skywalker before her, Rey is essentially a small town girl who dreams of something bigger, and from what we've seen, boy howdy is she going to get all the adventure she wished for, and then some.
Ridley describes Rey as:
And Boyega seems to agree whole-heartedly with this assessment. The actor, who plays a former stormtroooper gone AWOL, says she is innocent, but entirely capable of kicking butt when the need arises—something we gleaned from the latest TV spot for The Force Awakens.
Though we're starting to get a clearer picture of who Rey and Finn are as people, we still have many more questions about them than we do answers. Images of Finn wielding a lightsaber in multiple instances have fueled speculation that he may be gifted with the ways of the Force, while rumors, and a potentially spoiler-y battery commercial have indicated the same about Rey. There's also the question of the lineage of the two new additions to the Star Wars universe, though, as with everything surrounding this movie, we won't know for sure until it actually opens—and maybe not even then, as we've heard background information will be doled out over multiple movies.
One thing is for sure, however, Rey and Finn are about to embark on what is sure to be a transformative journey, and it begins in less than two weeks when Star Wars: The Force Awakens hits theaters worldwide.
Your Daily Blend of Entertainment News
Thank you for signing up to CinemaBlend. You will receive a verification email shortly.
There was a problem. Please refresh the page and try again.