Star Wars 7 Posters Are A Reminder Of How Badass New Villain Kylo Ren Could Be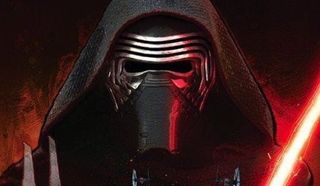 People are starving for Star Wars news. That's why thousands of people are currently lined up in Anaheim, California for Star Wars Celebration, hoping for any scrap of information. The gathering hasn't kicked off in earnest just yet, but some posters for Star Wars: The Force Awakes have already started popping up online this morning, and they give us our best look yet at the villainous Kylo Ren.
To be honest, it's possible, maybe even likely, that these images are nothing more than fan art. (We found them at Comic Book Resources, but they're all over the place, and no one seems to be sure where they originated.) The quality isn't the greatest, and it's certainly not the slick, finished style of offering we usually get from Lucasfilm and Disney. Add to this the fact that folks with legitimate professional connections to the franchise seem to have no idea where they came from—they're all over social media saying as much—we don't know what to think. Still, they are very detailed, and show off a bunch of the new stormtroopers as well.
Real or not, we don't really care, because if nothing else, these pictures do a damn good job of driving home just how badass the antagonists in The Force Awakens are going to be. The full frontal views of Kylo Ren are scary as hell, and whether you love or hate that new, three-bladed lightsaber, you have to admit, between that, the cape, and his creepy ass mask, this dude looks like bad, bad news. All that fire in the background just accentuates that this guy is up to no good.
Hot on the heels of the latest image of one of the updated stormtroopers, we've also got a ton more from the faceless goons of the Empire to check out. That guy in the cloak, holding a rifle, the one who appears to be the big man in charge, seems likely to be one of those new chrome troopers we've been hearing about for months and months. We've heard that they're a kind of elite commando unit, or something along those lines, and that Gwendoline Christie's character (possibly named Captain Phasma) may be their leader. Then there are those flame thrower-wielding shock troops, who remind me of G.I. Joe villains—they look like Cobra troops to me.
Whether or not these posters are authentic Star Wars: The Force Awakens swag remains to be seen (my guess is that they're probably not), but they're still pretty cool. If nothing else, they should whet your appetite for the rest of what's to come today. We've heard that they're going to unveil a new Star Wars: The Force Awakens trailer and poster later, but we're not sure if they're just going to show them off at Celebration or release them wide.
We've got a man on the ground in Anaheim, and when we know something, we'll pass that info right along. And for those of you who don't know, Star Wars: The Force Awakens hits theaters everywhere December 18.
Your Daily Blend of Entertainment News