Star Wars 7's Villain Has A Yellow Mask? See The Picture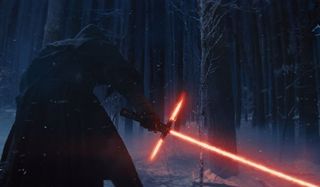 Further information about the villain that will be featured in Star Wars: The Force Awakens has started to emerge, and while it's true that we still don't know much about them, there is now evidence that suggests one character detail will be that he wears a yellow-tinged mask. You can check it out below:
Indie Revolver posted the bit of helmet production art that you see above, and says in their report that it will be worn by the film's foe - identified as Kylo Ren. This name was recently revealed that villain will be called Kylo Ren. The moniker for the dark, cross-lightsaber wielding warrior was recently revealed in the form of an awesome trading card, but much like the teaser trailer for the Star Wars: The Force Awakens, it didn't reveal what the shadowy figure was wearing under his cloak.
Ever since his first appearance, Kylo Ren - who it has been alleged will be portrayed by Adam Driver in J.J. Abrams' hugely anticipated sci-fi blockbuster - aficionados for the franchise have been pining to learn more about the character, and this new image has seemingly literally lifted the hood off of the character. As you can see, the helmet that he wears does bare a striking resemblance to Darth Vader's famous dome. Of course the yellow paint across the forehead and underneath the eyes of the helmet brings a bit more color to Kylo Ren's attire than his predecessor. And if this is how Kylo Ren will actually appear in the film, then it means he won't be very inconspicuous if/when he goes on a rampage to defend the dark-side. However, you have to admit, that there is something potentially and deliciously iconic about his look. Especially when it is coupled with his lightsaber and stance…
Adam Driver has turned into one of the most promising and well-respected young actors in Hollywood thanks to his work on the HBO series Girls, and in movies like Inside Llewyn Davis, and Frances Ha. He is part of a cavalcade of new actors joining the Star Wars universe, the group of newcomers also including Domhnall Gleeson, Andy Serkis, Daisy Ridley, John Boyega and Oscar Isaac. They will be joining the old guard of Star Wars thespians for the seventh installment in the hugely popular series. And while there will always be skeptics, these images suggest that that we will be in for something simultaneously new and old when Star Wars: The Force Awakens finally hits cinemas on December 18, 2015.
Your Daily Blend of Entertainment News