Star Wars 7: Why The Cast Is Committed To Protecting The Film's Secrets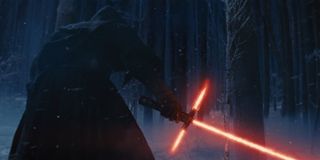 J.J. Abrams is notoriously tightlipped when it comes to the details on his movies. Remember how often he swore Benedict Cumberbatch was not playing Khan in Star Trek Into Darkness? Understandably, he's even more secretive when it comes to Star Wars: Episode 7. One of his stars, Domhnall Gleeson, says he's never had to deal with so many secrets surrounding a project before, but he had an experience on set that put everything into perspective.
The About Time and Harry Potter actor recently spoke to RadioTimes.com on the subject. As he said:
It's a little hard to believe that last part, given that most films have non-disclosure agreements, but it's interesting that he would say it. As for the love of the work, anyone can see that Abrams is a diehard Star Wars nut, even though he once was on #TeamStarTrek for the last few years. He detailed to StarWars.com that he's been a lifelong fan of the franchise, saying how the first film "struck a cord" with him. This is probably why he recently admitted that he's terrified of all the pressure. But Domhnall shares this passion for making Episode 7 the best it can be and keeping everything a secret.
Not too long ago, Lucasfilm released a slew of character names that we'll be hearing in Star Was: Episode 7, including John Boyega's Finn, Daisy Ridley's Rey, Oscar Isaac's Poe Dameron, the new droid BB-8 and a hooded Sith figure Kylo Ren. But who is Gleeson playing? Like the man said, he's not saying anything.
Although a role in Episode 7 is a once-in-a-lifetime opportunity, Domhnall Gleeson is blowing up in his own right. After his critically acclaimed sci-fi/rom-com About Time with Rachel McAdams, he's been popping up everywhere — Angelina Jolie's Unbroken, in the indie film Frank with Michael Fassbender, Calvary opposite his dad Brendan. And he'll be seen next in a small sci-fi film with his Episode 7 co-star Oscar Isaac called Ex Machina. He just can't seem to pull himself away from sci-fi.
Your Daily Blend of Entertainment News
Thank you for signing up to CinemaBlend. You will receive a verification email shortly.
There was a problem. Please refresh the page and try again.