The Ex Machina Trailer Is Brilliant, Makes Us Want The Movie Immediately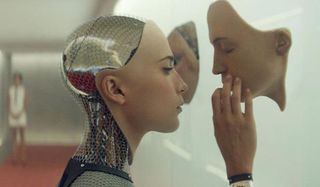 "To erase the line between man and machine is to obscure the line between men and gods," warns the trailer for the upcoming sci-fi thriller Ex Machina. And the dangers that tagline implies are teased in a chilling promo that's as beautiful as it is unnerving.
Star Wars: Episode VIII's Domhnall Gleeson and Oscar Isaac star as two men involved in an experiment that could forever change man's interactions with machine. Isaac is the creator of the artificial intelligence machine Ava, played by Gleeson's Anna Karenina co-star Alicia Vikander. But rather than your typical robot becomes sentient, robot turns on human overlords narrative, Ex Machina suggests Ava is not the one to fear, setting up one of the strangest and most compelling love triangles we've ever seen teased.
With creepy music, clever cuts, and sneak peeks at some dazzling visual effects and a compelling story, Ex Machina's trailer has us wishing this movie were opening tomorrow. But alas, it's not hitting theaters until the spring of 2015. Making our anticipation downright unbearable is not only the combination of such incredible talent as Domhnall Gleeson, Oscar Isaac, and Alicia Vikander, but also the film's director, Alex Garland. Ex Machina will be the English filmmakers directorial debut, but fans of Danny Boyle, or sci-fi, or zombie movies, know Garland well. He's the screenwriter who crafted Boyle's chilling horror movie 28 Days Later… as well as the cult-adored thriller Sunshine. Now, he's turning his keen eye for characterization and developing suspenseful stories into the realm of artificial intelligence sci-fi.
Yes, please.
A further suggestion that Ex Machina should be on your most anticipated of 2015 list is its distributor: A24Films. This company burst onto the scene in 2012 with Sally Potter's moody and melodious Ginger & Rosa and Harmony Korine's neon-colored and outrageous Spring Breakers. Since then, they've brought us such celebrated cinema as The Spectacular Now, The Bling Ring, Under The Skin, Locke, and Obvious Child. Basically, you should start looking to the A24 logo as a seal of quality cinema.
Ex Machina won't be opening until April 10th, 2015. But in the meantime, A24 is offering up lots of treats in time for this creepy thriller's Halloween trailer debut. First up, a poster that gives us a close look at what lies inside Ava.
And then, a literally different side to this A.I. creation, showing her curled up, vulnerable, and even looking distinctly human.
April can't come fast enough. Learn more about Ava here.
Your Daily Blend of Entertainment News
Staff writer at CinemaBlend.