Star Wars Episode 8 May Be Delayed Because Of A Strike, Get The Details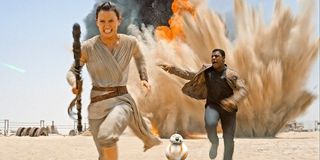 It hasn't been the best couple of weeks for Star Wars: Episode VIII. Not only has the monumental success of Star Wars: The Force Awakens ramped up the pressure on the sequel, but Rian Johnson also has to do some re-writes, which means that the film has been delayed until Christmas 2017. But it's now been rumored that it could be pushed back even further as lightning technicians are threatening to go on strike.
The anger of the British film lighting technicians is threatening to delay work on nine blockbusters that are due to begin filming across the pond in the next few months. Why are they so mad? Well, according to The Independent, they haven't had a pay increase in four years. Because of this freeze they decided that the only way to get through to the powers-that-be is to halt work.
Unfortunately for Star Wars fans, if the issue persists for a prolonged period, Episode VIII could get pushed back even further. If that happens then Star Wars 8 could end up being released in 2018, which would sadly mean that 2017 would be a Star Wars free year. But while that 12 months would be truly unbearable, on the plus side it would mean that 2018 would likely include both Episode VIII and the Han Solo anthology film.
Obviously that's a worst case scenario though. And now that Hollywood producers are involved, you can rest assure that they're going to try their damndest to solve the problem. Because trying to find room for nine films will cause a major headache, and they have a lot of money wrapped up in these productions.
Recent talks between the lighting technicians' union representatives and their employers fell apart. What may end up preventing a strike are the producers of the various films, including Star Wars: Episode VIII, that could potentially be put off-schedule due to the conflict. The report says that Hollywood producers have travelled to the Warner Bros. Studios in Leavesden, Hertfordshire to talk with the union and make an offer. Sources say their deal would see a pay increase of between five and eight-and-a-half percent, depending on the different responsibilities and grades of the lighting technicians.
It remains up in the air whether or not this deal will be accepted. While their latest offer is higher than the previous two percent raise that was on the table, it's still way short of the 20 percent increase that union members have been seeking. They want this amount to cover the four years of pay they believe is rightfully owed to them. This period also coincides with a huge rise in profits for the British film industry because of how many Hollywood productions have taken place there in the last few years.
The deal put forward by the producers will now be passed on to the union's 600 members, who, after consideration, will vote electronically on whether to accept it or not. A decision should be reached by the end of the day. If the consensus of the members is that they're happy with the deal then production on these nine films, including Star Wars: Episode VIII, will move forward.
However, if the lighting technicians decide that they want even more money and reject the deal, production on the likes of Star Wars: Episode VIII, Wonder Woman, The Foreigner, and The Mummy will immediately grind to halt.
Shoot back over to Cinema Blend later to find out if Star Wars: Episode VIII's bad month just became a terrible one.
Your Daily Blend of Entertainment News
Thank you for signing up to CinemaBlend. You will receive a verification email shortly.
There was a problem. Please refresh the page and try again.