Star Wars Is Finally Coming To Digital HD With These New Special Features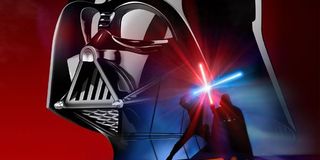 Over the years, Star Wars fans have been able to purchase the saga films on a wide variety of formats - from LaserDisc, to VHS, to DVD to Blu-ray. Well, now the legendary sci-fi franchise is finally taking the next step in home media, as it has finally been announced that all six Star Wars movies will soon be available on DigitalHD. And what's more, to mark the occasion, the new release will also come with new, exclusive bonus features that will further explore the fictional universe.
Beginning on April 10th, all six films in the Star Wars saga - including The Phantom Menace, Attack of the Clones, Revenge of the Sith, A New Hope, The Empire Strikes Back, and Return of the Jedi - will be available around the world from a variety of different outlets. According to the official release, the digital bonus offerings may vary by retailer, and while pricing isn't mentioned, Amazon (opens in new tab) already has all of the titles listed for pre-order. The titles can be purchased for $19.99 a pop, though if you order them in a bundle, it is $89.99.
So what are these new features that will come with this new release? As described by LucasFilm President Kathleen Kennedy, the new stuff is "very special bonus material which delves into the saga's rich history, including new and never-before-released conversations between legendary Star Wars artists — the masters who helped George bring his iconic universe to life." Each movie will have a "Star Wars: Discoveries from Inside" chapter that looks at one specific element of bringing the film to life, while there will also be "Conversations" that feature "key contributors" talking about their part in the franchise's legacy.
What's not precisely specified in the official press release about Star Wars special digital release is exactly what version of the movies - specifically the originally trilogy - are being made available. Presumably that means we can expect that they will be the same cuts featured on the Blu-rays that were released just a few years ago. This is unfortunate for those of us who are continuing to wait for officially restored versions of the original theatrical releases, but I guess patience is a virtue.
In case you couldn't already tell, this is shaping up to be a rather huge month for the Star Wars franchise - and this announcement of a DigitalHD release is just the tip of the iceberg. Later this month will see the annual expo known as Star Wars Celebration held down in Anaheim, California, and it's expected that the event will not only produce a new trailer and debut poster for J.J. Abrams' Star Wars: The Force Awakens, but it has also been suggested that the event may be used to reveal more about the upcoming spin-off movies set to be directed by Gareth Edwards and Josh Trank. Naturally, we'll be watching it all very closely, so stay tuned for our coverage - and head over to Page Two for a full breakdown of all the DigitalHD special features. Star Wars: Episode I The Phantom Menace
Conversations: Doug Chiang Looks Back
Discoveries From Inside: Models & Miniatures
Legacy content includes "The Beginning"; The Podrace: Theatrical Edit; plus eight deleted scenes.
Star Wars: Episode II Attack of the Clones
Conversations: Sounds In Space
Discoveries From Inside: Costumes Revealed
Legacy content includes "From Puppets To Pixels: Digital Characters In Episode II"; State Of The Art: The Previsualization Of Episode II; and "Films Are Not Released, They Escape"; plus Episode II Visual Effects Breakdown Montage and six deleted scenes.
Star Wars: Episode III Revenge of the Sith
Conversations: The Star Wars That Almost Was
Discoveries From Inside: Hologram & Bloopers
Legacy content includes documentaries "Within A Minute: The Making Of Episode III"; The Journey Part 1; and The Journey Part 2; plus six deleted scenes.
Star Wars: Episode IV A New Hope (20th Century Fox)
Conversations: Creating A Universe
Discoveries From Inside: Weapons & The First Lightsaber
Legacy content includes "Anatomy Of A Dewback"; Star Wars Launch Trailer; plus eight deleted scenes.
Star Wars: Episode V The Empire Strikes Back
Conversations: The Lost Interviews
Discoveries From Inside: Matte Paintings Unveiled
Legacy content includes "A Conversation With The Masters" (2010); "Dennis Muren: How Walkers Walk"; "George Lucas On Editing The Empire Strikes Back 1979"; and "George Lucas On The Force: 2010"; plus six deleted scenes.
Star Wars: Episode VI Return of the Jedi
Conversations: The Effects
Discoveries From Inside: The Sounds Of Ben Burtt
Legacy content includes "Classic Creatures: Return Of The Jedi"; "Revenge Of The Jedi Teaser Trailer"; Return Of The Jedi Launch Trailer; "It Began TV Spot"; "Climactic Chapter TV Spot"; plus five deleted scenes.
Your Daily Blend of Entertainment News
Assistant Managing Editor
NJ native who calls LA home and lives in a Dreamatorium. A decade-plus CinemaBlend veteran who is endlessly enthusiastic about the career he's dreamt of since seventh grade.