New Star Wars: The Force Awakens Footage Shows Off The First Order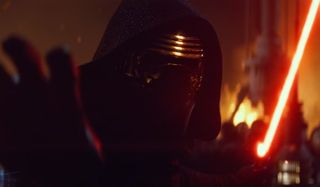 In the spirit of "any Star Wars update is a good Star Wars update," we bring you the latest TV spot for Star Wars: The Force Awakens. Sure, 95% of it is the same footage we've seen time and again from the previous trailers, but that remaining 5% features a brand new look at the First Order. Take a peek.
As we learned at Comic-Con, Adam Driver will play a Kylo Ren, Domhnall Gleeson will play high-ranking officer General Hux, and Gwendoline Christie will play the lead Stormtrooper named Captain Phasma. These three baddies are the top dogs of the First Order, which is the sinister governmental body that rose to power after the fall of the Empire. The biggest draw of this new Force Awakens footage comes in the very beginning at the :02 mark, where we get to see at least some of these leaders addressing their massive army of Stormtroopers. Click on this image for a larger version of the screen grab!
It's hard to tell from the back who's who, but there's a silver Stormtrooper helmet resting on top of a black cloak, suggesting Captain Phasma. It doesn't appear that Hux or Ren are present in this instance, but then again all those in black are wearing hats, so perhaps there's a bushel of blonde hair underneath one of them.
The rest of the footage is your standard mumbo jumbo, but it's not less exciting to see it one more time.
This international TV spot comes from the folks over at Moviepilot, and it's an example of the power behind this franchise. Even though there's a mere two-seconds worth of new footage, fans will no doubt trample over each other to get a look at it. (I'm speaking in the metaphorical sense. I'm aware there's no physical trampling of bodies where the Internet is concerned.) Disney CEO Bob Iger seemed to doubt this reach. While he said there's a renewed excitement with each new update, no matter how big or small, he was worried that the box office predictions were getting ahead of themselves. Some were throwing out numbers in the high millions and even billions for The Force Awakens' theatrical debut on December 18, and Iger seemed like he didn't want to count his chickens before they hatched. However, and this is no knock to Jurassic World, but if that movie can become the third highest-grossing movie of all time, then Star Wars can definitely do that, too… if not beat that ranking.
Star Wars: The Force Awakens will feature a slew of returning actors and franchise newbies. Mark Hamill (Luke Skywalker), Carrie Fisher (Princess Leia) and Harrison Ford (Han Solo) will reprise their roles, while the new installment will focus on John Boyega's Finn, Daisy Ridley's Rey and Oscar Isaac's Poe Dameron.
Your Daily Blend of Entertainment News
Thank you for signing up to CinemaBlend. You will receive a verification email shortly.
There was a problem. Please refresh the page and try again.