Why Star Wars Might Underperform At The Box Office, According To Disney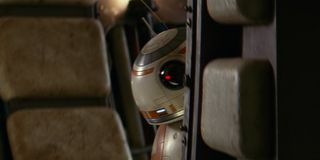 Disney CEO Bob Iger is overly confident when it comes to Marvel — he recently told journalists "we're Marvel" when considering the competition in the superhero movie landscape and the other Marvel movies coming down the pipeline. But when it comes to Star Wars, he wants to reset expectations. During Disney's earnings call, Iger didn't seem assured of the success of Star Wars: The Force Awakens because, according to him, the brand still needs to be re-introduced to some parts of the world.
Marvel Studios is an international brand. Aside from the divisions coming out of 20th Century Fox and Sony Pictures — the latter of which recently partnered with Disney for the next Spider-Man iteration — the Avengers and all the films that come with them dominated the global box office with each new release. (Ant-Man floundered a bit, but it still performed relatively well.) For Star Wars, Iger still wants to wait and see how international audiences will react to the latest installment.
As reported by Entertainment Weekly, he said,
That isn't to say he's not optimistic. Before he made his "that said" statement, he praised the brand's clout, citing the high anticipation for The Force Awakens, the massive success of the two teasers and the Comic-Con behind-the-scenes video, and positive reactions to some of the new products coming out. He even said, "anything that moves gets a lot of attention."
Even box office analysts are more than optimistic for the next Episode. Morgan Stanley gave their estimations back in June, predicting The Force Awakens would earn anywhere from $650 million to $750 million domestically and anywhere from $1.3 billion to $1.5 billion internationally. Perhaps, for Iger, these numbers seem too good to be true, and he's just trying to cover his bases in the unlikely event that this film will bomb.
The announcement of Episode 7 back in 2012, along with Disney's Lucasfilm acquisition, was one of the biggest movie moments in history. Not to knock Jurassic World, but if that movie can become the third-highest-grossing movie of all time, just under Avatar and Titanic, The Force Awakens can at least match it.
Star Wars: The Force Awakens is directed by J.J. Abrams and features an ensemble of returning cast members — including Mark Hamill, Carrie Fisher and Harrison Ford — and franchise newbies like John Boyega, Daisy Ridley, Oscar Isaac, Adam Driver, Gwendoline Christie, Domhnall Gleeson, Lupita Nyong'o, Andy Serkis and Max von Sydow. The film will open in theaters on December 18.
Your Daily Blend of Entertainment News