Star Wars: The Force Awakens Poised To Shatter Every Box Office Record We Have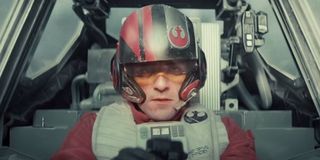 Star Wars: The Force Awakens is by far the most highly anticipated movie of 2015. Sorry, Age of Ultron. Thanks to Disney's Star Wars Celebration, which recently wrapped, the hype surrounding this cinematic event is palpable. According to experts, all of this points to its inevitable box office success, but will its opening release sweep be the largest of all time?
Box-office analyst Phil Contrino is so confident in The Force Awakens' opening numbers that he's already predicting the film will surpass Avatar's previously held record. He told The Hollywood Reporter,
The Force Awakens will open on December 18, which is not exactly a slot guaranteed to snatch the most box office dough, given the holiday season. However, Avatar, as Contrino noted, had the exact same release date back in 2009. Opening in 3,461 theaters, the film had a domestic opening release of $77 million, and Contrino thinks Star Wars will easily surpass this.
Further poising the film's likely success is its wide release. Disney wouldn't comment, but THR reports that Star Wars will open in 4,500 theaters across the country, a wider release than any other film that has preceded it.
If we're going by trailer success, Star Wars once again pulls ahead of the pack. Interest in the Star Wars: The Force Awakens trailer seems to outweigh the likes of Furious 7 and Fifty Shades of Grey. The former has surpassed $1.15 billion at the box office, having been open for 19 days, while the latter became February's highest-grossing film. So there's precedent in fan interest translating to ticketss sold.
The Force Awakens has a lot going for it. In addition to director J.J. Abrams switching sides from Star Trek to Star Wars, the film boasts a cast of new and returning characters. Mark Hamill, Carrie Fisher and Harrison Ford return as Luke Skywalker, Princess Leia and Han Solo, in addition to Peter Mayhew as Chewbacca, Anthony Daniels as C-3PO and Kenny Baker as R2-D2. The new cast of characters consists of three core members — Oscar Isaac, John Boyega and Daisy Ridley. Playing "the best friggin' pilot in the galaxy" Poe Dameron, a defecting Stormtrooper Finn, and a scavenger Rey, they become intertwined with each other and their fates are forever changed. While its record-breaking success isn't guaranteed, all signs point to Star Wars: The Force Awakens becoming one of (if not the) biggest film of all-time.
Your Daily Blend of Entertainment News