Star Wars Hosting A Global YouTube Event To Unlock Force Awakens Secrets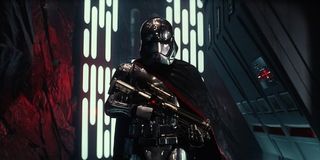 One thing Star Wars, as a franchise, has always been great at is marketing. We can all wax nostalgic about the awesome Star Wars toys we all had (that some of us still have), and with new movies on the way, you can bet your ass a tidal wave of new toys waits for us. Lucasfilm is planning a massive global "unboxing" of all of these products, which are sure to provide some more insight into the upcoming Star Wars: The Force Awakens.
In a press release, Lucasfilm revealed that they will take to the official Star Wars YouTube channel on September 3 to show off all of the new goodies you can spend your hard-earned cash on later this year. Lucasfilm President Kathleen Kennedy said:
Seriously, kids, start saving those dollars you earned mowing lawns this summer, you're going to need them.
When we call this massive, that is not an understatement. The live event will unfold over the course of 18 hours and span 15 cities in 12 countries. That's big. They are calling it a "rolling New Year's Eve style celebration." Beginning in Sydney, Australia on the morning of September 3, the festivities will blow across the rest of the world in succession, through Asia, Europe, and finally North and South America. All of this leads up to retailers getting in on the Black Friday-style mayhem by opening their doors at midnight.
While the toys are sure to be off-the-charts awesome, they will also likely be a source of fresh new intel on J.J. Abrams' Star Wars: The Force Awakens. Information has gradually been coming out and making the rounds, like how just the other day we learned that Adam Driver's villainous Kylo Ren is not a Sith, or where the brain trust took their inspiration for The First Order, but more is always welcome. And toy reveals have become a fairly dependable source of news about big movies. Just with The Force Awakens, we've seen Lego sets that revealed characters we didn't know about before, and more. So, we're super curious to see what kind of new knowledge about the movie we can glean from this event.
With the prequels, we saw that fervor and enthusiasm for Star Wars toys has not dampened one bit since the original trilogy wrapped up with Return of the Jedi in 1983. This sort of live unboxing event, where online personalities debut new products, has also grown in popularity recently. 18 of the top 100 YouTube channels are dedicated to this sort of happening, and in the first quarter of 2015—just the first quarter mind you—they accounted for 8.1 billion views.
The Star Wars: The Force Awakens unboxing stream begins at 7:45 am in Sydney on Thursday, September 3, which is 5:45 pm Eastern on September 2, in the U.S. The final unveiling will take place at Lucasfilm in San Francisco on September 3 at 11 am Eastern (8 am Pacific), and each of the 15 stops will reveal a new toy you can add to your collection. Can't wait to see what we'll see.
Your Daily Blend of Entertainment News
Thank you for signing up to CinemaBlend. You will receive a verification email shortly.
There was a problem. Please refresh the page and try again.