Oscar Isaac's Star Wars Squadron Has A Pretty Badass Name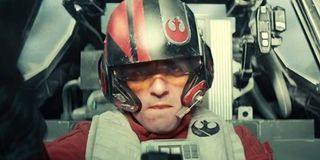 The Star Wars universe is full of squadrons. You've got Rogue Squadron, Gold Squadron, and my personal favorite, Nightmare Squadron (from one of the non-canon games). We already knew that The Force Awakens has Red and Blue Squadrons, but there's a new kid on the playground, as Oscar Isaac's character, Poe Dameron's squad bears the badass name Black Squadron.
Just a warning, there may be potential SPOILERS beyond this point. Tread lightly.
Making Star Wars has a few sparse details about the new addition to the franchise, Poe Dameron. Though there's nothing earthshaking, they do restate what we all suspect, that he turns out to be a natural leader. That's the impression most of us already had after all the photos and trailers we've seen—he just looks very heroic—but they add that by the end of the movie he'll be the lead of the cadre of X-Wing Fighters named Black Squadron.
If you've been keeping an eye on all things The Force Awakens, this moniker makes a great deal of sense. Back during principal photography, set photos started hitting the airwaves showing off a sexy new black X-Wing. Those were followed by leaked promotional images of a LEGO set showing off the same ominous looking craft, as well as more images, including one of Poe Dameron standing in front of the new fighter.
Initially we weren't sure if this new X-Wing, or X-Wings—we also weren't sure if there was more than one—were on the side of good or evil. To be fair, we still don't know the score on either count. We've heard that, at some point, Poe steals a ship to make an escape, and that could very easily be this craft (in Star Wars lore, the Rebel Alliance stole the X-Wings from the Empire in the first place). And perhaps Black Squadron is a new designation, and the name derives from their leader's ship.
This isn't the first time we've heard the name "Black Squadron" used in the Star Wars lexicon. The name also refers to an elite group of TIE Fighter pilots under the command of Darth Vader in A New Hope. They're stationed on the Death Star during the Battle of Yavin, and you may recall Vader being referred to as "Black Leader" in the midst of the squabble. During the conflict, Grand Moff Tarkin didn't take the Rebel threat seriously, and so Black Squadron was the only one to actually deploy and they were seriously outnumbered.
We're curious to see how this name makes the leap from one side to another, or if it's even mentioned at all. Maybe it's just an obvious, cool sounding name with no greater ties. It wouldn't be the first time Star Wars: The Force Awakens has used something from another source, after all, the title is the same as a 2006 fan film. This, however, is at least canon (it was in one of the movies, it's canon), so it will be interesting to see.
We'll find out one way or another when Star Wars: The Force Awakens hits theaters December 18.
Your Daily Blend of Entertainment News
Thank you for signing up to CinemaBlend. You will receive a verification email shortly.
There was a problem. Please refresh the page and try again.