Star Wars Land Coming To Disney World By 2018?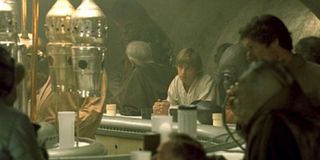 When Disney shelled out big bucks to acquire Lucasfilm, it was obvious that the company that has mastered marketing of all kinds was not going to stop at just making Star Wars movies and TV shows. Sure, that's what most of the conversation has been about so far, with J.J. Abrams hired to direct Episode VII and a new animated series in the works. But now it's time for the ground to break on what we were all predicting from the very start: a Star Wars land in Disney World.
Alright, ground's not exactly breaking yet. But the rumor at Theme Park Insider has it that Disney World president George Kalogridis has been given the green light to remake Hollywood Studios, formerly known as MGM Studios, and that the revamp will add a Cars Land similar to the one in California's Disneyland, as well as a Star Wars land. Right now the timeline appears to put construction over the course of 5 years, with opening scheduled for 2018-- three years after the debut of Star Wars: Episode VII. Of course, given Disney's plans to release a new Star Wars film every summer, they shouldn't have any trouble keeping up the excitement-- and by 2018, they could have Episode VIII completed without much trouble.
The theme park is probably the last thing that actual storytellers like Abrams and screenwriter Michael Arndt should have in mind as they prep the film for its planned 2014 start, but it's hard for the rest of us not to start fantasizing about what new stuff they might dream up, and how it could translate into a theme park. A new Star Wars land would hopefully play off the original series in addition to whatever Abrams comes up with-- can you imagine them not recreating the Cantina as an on-site restaurant?-- but right now, with no details whatsoever on Episode VII, the sky's the limit. Let us know in the comments what you'd want to see in a Star Wars land, or any other ways that Disney will inevitably take your money as the Star Wars gravy train comes under their command.
Staff Writer at CinemaBlend
Your Daily Blend of Entertainment News
Thank you for signing up to CinemaBlend. You will receive a verification email shortly.
There was a problem. Please refresh the page and try again.