New Star Wars Animated Series Coming To Disney XD In 2014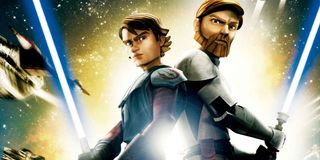 In 2015 moviegoers will be anticipating the return of Star Wars on the big screen after nearly a decade away. On television, the wait won't be nearly as long. Star Wars: The Clone Wars was only canceled two months ago, and there's still the promise of new bonus content to come, but the next installment of Star Wars on television is already on its way. According to The New York Times Disney and Lucasfilm have announced a new Star Wars animated series, scheduled to debut on The Disney Channel next fall.
The series will take place between Episode III and Episode IV of the films, so sometime after Dath Vader turns permanently to the dark side but before Luke Skywalker makes his way off Tattooine. Called Star Wars Rebels, the series will "take place in a time where the Empire is securing its grip on the galaxy and hunting down the last of the Jedi Knights as a fledgling rebellion against the Empire is taking shape." Simon Kinberg, who has been hired by Disney to work on several new Star Wars projects, is on board the creative team for Rebels, as are Clone Wars veteran Dave Filoni and former Young Justice producer Greg Weisman.
Given the persistent rumors that the J.J. Abrams-directed Star Wars: Episode VII will be about Han, Luke and Leia's kids, with likely cameos from Mark Hamill, Carrie Fisher and Harrison Ford as their now older selves, the timeline of Episode VII may be completely different from the one we see in Rebel. The entire strategy behind Disney's purchase of Lucasfilm seems to be the ability to tell a lot of stories in a lot of different mediums that don't necessarily have to line up with each other, the same way that TV's upcoming Agents of S.H.I.E.L.D. doesn't have to be anything like what happens in The Avengers 2. Then again, given how little we know about the plot of Episode VII, you're welcome to add these scant details about Star Wars Rebels and speculate wildly from there.
Your Daily Blend of Entertainment News
Staff Writer at CinemaBlend
Your Daily Blend of Entertainment News
Thank you for signing up to CinemaBlend. You will receive a verification email shortly.
There was a problem. Please refresh the page and try again.