New Star Wars Villains May Connect To Boba Fett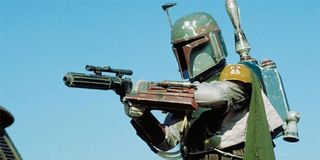 Real Star Wars nerds are likely very familiar with the term "Mandalorian." After all, it was Mandalorian armor that made both Jango Fett and his clone Boba Fett look like a total badass. This has always been just a cool little bit of trivia shared between saga geeks, but if new rumors are to be believed then the Mandalorians will actually be playing a significant part in the future of the franchise.
This report comes to us from the folks over at Latino-Review, who claim to have sources who tell them that there will be Mandalorian characters playing important roles in Star Wars: Episode VII. According to Star Wars literature, the Mandalorians are a culture of nomadic clan people, many of whom work as bounty hunters and/or mercenaries. So how does this connect to the stories we've heard about the J.J. Abrams-directed epic so far? The Mandalorians may be the previously rumored "Jedi Hunters" who operate as the antagonists in the story.
If rumors are to be believed, part of Star Wars: Episode VII's plot will follow three mercenaries - two of whom are said to be played by Lupita Nyong'o and Adam Driver - as they attempt to try and rid the universe of the Jedi. Of course, Luke Skywalker is still around and has been spending the last 30 years trying to stay alive. Could those villainous mercenaries be Mandalorians? Sources on set have described the characters as being "scary individuals, dressed in black, some helmeted," but no comparison was ever made to the armor worn by either Boba or Jango Fett:
In addition to the Mandalorian rumor, another bit LR has picked up about Star Wars: Episode VII concerns the possible presence of characters known as "Sith Witches." Unfortunately they don't really delve into any detail or specifics about the characters' involvement or even really bother to explain what "Sith Witches" are. However, "Sith Witches" sounds a lot like the Witches of Dathomir, a group of human force-sensitives descended from a banished Jedi Knight and living on a primitive planet in the Extended Universe books.
Furthering the Mandalorian connection, ever since LucasFilm was purchased by the Walt Disney Company back in 2012 we've been hearing buzz about a possible Boba Fett solo movie, but nothing has been confirmed yet. At this time we do know that both Chronicle's Josh Trank and Godzilla's Gareth Edwards are working on what are described as Star Wars spin-off films, but their content is currently a mystery.
Do you believe there will be a Mandalorian presence in Star Wars: Episode VII? Would you like to see more hints about Boba Fett show up in the universe, and potentially have the character get his own movie? Let us know what you think in the comments below.
NJ native who calls LA home; lives in a Dreamatorium. A decade-plus CinemaBlend veteran; endlessly enthusiastic about the career he's dreamt of since seventh grade.
Your Daily Blend of Entertainment News
Thank you for signing up to CinemaBlend. You will receive a verification email shortly.
There was a problem. Please refresh the page and try again.