Stephen King's Road Trip Horror Heading To The Big Screen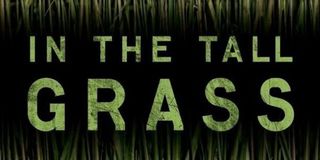 With new adaptations of It and The Stand in the works from major Hollywood studios and talented, in-demand filmmakers, Cary Fukunaga and Josh Boone respectively, it's not a bad time for Stephen King adaptations. And we can add one more to the list, as Splice director Vincenzo Natali is bringing In the Tall Grass to the big screen.
Talking to Screen Daily, Natali revealed that not only will he direct In the Tall Grass, he's handling screenplay based on the novella written by King and his son and fellow horror writer Joe Hill. Now available as an e-book, the story originally appeared in the pages of Esquire in two parts back in 2012.
Described as a horror road trip, In the Tall Grass follows a young man named Cal DeMuth and his pregnant sister Becky. While driving through Kansas, they hear a boy crying out for help in a field of, you guessed it, tall grass. If you have any familiarity at all with horror as a genre, you can imagine what happens next. When they stop to see if they can help the young lad, they find themselves in a dangerous and unexpected situation. You probably saw that much coming. Natali goes into more depth, saying:
This is a smaller, more limited-in-scope story, with what sounds like a similar size production planned, and there's been some discussion around these parts of how the small-scale creepiness of the tale will translate to the movie screen. But if anyone can pull it off, it's this trio. King, as you're well aware by this point, is the most famous horror writer alive, maybe ever, and Hill is no slouch himself. If you haven't read his comic Locke & Key or novels like NOS4A2 and Horns, you should do so immediately, or at your earliest convenience.
Natali is known for films like Cube and Haunter, but has also done a lot of TV work over the last few years on shows like Hannibal, Darknet, and Hemlock Grove, all of which are eerie as hell. But he's also working from strong source material and has a good start in that regard. As Natali says:
That's certainly promising. Right now there's no proposed timeline being offered for In the Tall Grass, but the producers are heading to Cannes to shop around the pre-sale rights to the film, so once the financing is lined up and in order we'll likely hear more about this.
Your Daily Blend of Entertainment News
Your Daily Blend of Entertainment News
Thank you for signing up to CinemaBlend. You will receive a verification email shortly.
There was a problem. Please refresh the page and try again.