Stephen King's Teleportation Tale The Jaunt Heading To Theaters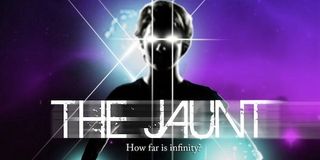 Big screen versions of Stephen King stories have a checkered past. For every The Shining or Shawshank Redemption, you get a couple Dreamcatchers. But that's never scared Hollywood away, and now Brad Pitt's Plan B plans to adapt King's teleportation short, "The Jaunt."
According to Deadline, Andy and Barbara Muschietti, the pair behind 2013's horror hit Mama, are developing The Jaunt, with Andy Muschietti in line to direct. Set in the 24th century, the story is more science fiction than King's traditional horror, but still inflicts plenty of his trademark psychological trauma on the characters.
The action revolves around a family preparing to use a form of teleportation called "Jaunting" to travel from Earth to Mars. In order to prevent terrible things from happening to your brain during this almost instantaneous process, the voyagers must be under anesthesia. If not, time stands still, the trip seems to take an eternity, and your brain may actually implode because there is no external stimulation and too much time to think. Even if you don't die, the other outcome is insanity. Given the source of this story, you can imagine how things may not entirely go well on this particular journey.
"The Jaunt" first appeared in Twilight Zone Magazine back in 1981, though it was later included in King's 1985 anthology, Skeleton Crew, where it found a wider audience. Sci-fi fans will be pleased to find the explicit reference to Alfred Bester's genre classic The Stars My Destination, which is itself in development over at Paramount.
This seems like a great idea for a film that straddles both horror and sci-fi, and the Muschiettis are ideal candidates to bring it to the big screen. Though there are some missteps and contrivances in Mama, it's a strong debut feature, and favors creepy atmosphere and tension over more obvious shocks and jump scares.
At the moment, Plan B hasn't found a studio home for The Jaunt just yet. However, as per the report, the folks involved—Pitt, Dede, Gardner, and Jeremy Kleiner—have a first-look deal in place with RatPac Entertainment (Jupiter Ascending) and New Regency (Birdman), so you could see it land at one of those places.
More likely than not, things will get rolling on this rather quickly. King does this thing where he gives a 90-day option for only $1, but there are some conditions. This is his way of making sure the people involved are serious about developing his property, and the deal hinges on moves like hiring a writer and taking actual steps forward in the process.
Your Daily Blend of Entertainment News
Thank you for signing up to CinemaBlend. You will receive a verification email shortly.
There was a problem. Please refresh the page and try again.