Steve Carell's Adorable Reaction To His Oscar Nomination Will Make You Love Him Even More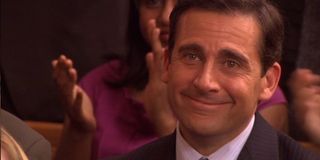 While Tom Hanks has officially taken the title of the "Most Likable Man in Hollywood," he better watch his back. With Steve Carell's latest career choices, he is slowly creeping in there as not only one of America's favorite comedic actors but now as one of our most interesting dramatic actors. If you're not yet sold, just wait until you read his reaction upon receiving an Oscar nomination for his latest role in Bennett Miller's Foxcatcher.
We all know the power of the title Academy Award-winner, but even just being nominated for an Oscar oftentimes leads to a nice bump in career opportunities. Many actors and actresses have shared their reactions upon their learning they were nominated by the Academy Awards but none in recent memory have stood out as sounding quite as humble as Carell. Check out the actor's reaction to the big news in his own words below, courtesy of POPSuger:
It's always great to see such a big persona have such a down-to-earth response like that of Carell. Not only that, but it sounds like his sharing the moment with his wife of 20 years (a Hollywood rarity) is also something the actor holds dearly as well. I don't want to be the Debbie-Downer here but I'm pretty sure Michael Keaton has the Best Actor Oscar on lockdown, thanks to his amazing comeback performance in Birdman but I'd still be thrilled if Carell pulled off the win for his performance as John du Pont in Foxcatcher, as he did a phenomenal job as the eccentric billionaire.
Carell began his rise to fame through his role as Andy in The 40-Year-Old Virgin but really became a household name with his character Michael Scott on NBC's The Office. Though that's obviously a very strong comedic past, his performance in Foxcatcher suggests that he has a lot to offer the dramatic world. We can't wait to see how he follows up his Oscar-nominated turn.
Your Daily Blend of Entertainment News