Will McDonald's Try To Stop The Controversial McDonald's Movie?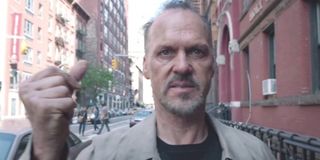 Now that Michael Keaton has a Golden Globes win under his belt and is looking to pull off some more magic at the Oscars, the 63-year-old Birdman star is looking for his next big project. He's currently been eyeing a movie called The Founder, which goes behind the history of the fast-food giant, McDonald's with Ray Kroc. The thing is that, much like The Social Network, the film bashes a company's founder in depicting some less-than-desirable qualities. So, will Mickey D's fight back on The Founder, as Facebook reps have done so with The Social Network?
The short answer is no. According to The Hollywood Reporter, the golden arches take no issue with the fact that Kroc's story is coming to Hollywood. In fact, a company rep, Lisa McComb even said:
The reason why McDonald's won't be firing back at FilmNation's biopic is mainly because the story behind their founder is grounded largely in fact. As told through a script by Robert Siegel, who wrote The Wrestler and The Onion Movie, Kroc got his start as a small-time salesman who convinced Californian brothers Mac and Dick McDonald to franchise their popular hamburger stand. After it took off and restaurants started popping up all over the place, he pulled the carpet out from under the brothers in stealing the chain. Not only that, but he maintained the false claim that he was the one who made up the McDonald's name.
As McComb noted to THR, many of the negative stories surrounding Kroc were actually confirmed by the man himself in the book Grinding It Out: The Making of McDonald's, in which he recounts the story of his success. This is in stark contrast to what went down with The Social Network. Sorkin's script portrayed Facebook founder Mark Zuckerberg as a swindler who cut out his partner and took primary claim the company himself. But, the real Zuckerberg denounced the film as largely fictitious.
The fact that McDonald's has no plans to bash The Founder in this way must be a relief to FilmNation, as it tries to get its cast and crew together. No director has yet been formerly announced, though John Lee Hancock, who directed Saving Mr. Banks and The Blind Side, was said to be sliding into the director's seat this past December. While Tom Hanks was once courted for the lead role, he dropped out. Keaton's casting, too, isn't locked down. Though he had expressed interest a while back, he reportedly wanted to wait to see who would be coming on to direct, though it seems very likely that he'll be taking a bite out of this project.
Your Daily Blend of Entertainment News