Steven Soderbergh Explains Why He Retired From Film Directing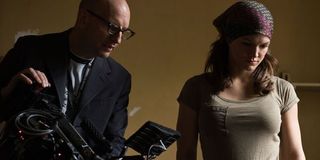 Few filmmakers have left behind a body of work quite like Steven Soderbergh. The skilled storyteller and Oscar winner bowed out last year after his last theatrically-released film, Side Effects, instead opting to dabble in television, artwork, and occasional side endeavors. Prolific to the very end, Soderbergh hasn't been linked to any directorial projects in almost two years right now – normal for other filmmakers, but not for him. We really aren't going to get any more Steven Soderbergh-directed movies for a long time, and for a very basic reason.
In an excellent, probing interview with Esquire, Steven Soderbergh elaborates on why he backed away from movies. Promoting the new television series The Knick starring Clive Owen, Soderbergh simply, and tragically, credits the fact that filmmaking was no longer any "fun."
Soderbergh was never the sort of anti-establishment rebel who scoffed at big studio pleasures. After all, this is the guy who made three lively Ocean's Eleven movies to refill his commercial cred. But it's impossible to hear that quote and not think of the muted responses to his later work. Ocean's Eleven ended and he disappeared into the wilderness to make the two-part Che epic Guerrilla and The Argentine, but neither critics nor the general audiences got behind the dry, academic films that nonetheless were titanic cinematic achievements. Soderbergh was very open about feeling that he had lost the plot with those films, but they're still highly fascinating documents of a frustrating moment in global politics, featuring a stellar performance by Benicio Del Toro.
Soderbergh was also facing the ghettoization of independent film. Now alternate revenue streams could guarantee that a niche product can be profitable. But such specialization meant that it would reach its core audience, but not connect with newer fans that represented the future of cinema. Soderbergh attempted to connect with those fans with a deal to make off-the-radar digital films for VOD release, but a six-film agreement with HDNet only resulted in Bubble and The Girlfriend Experience, the latter of which at least stands to gain a second life from an upcoming TV adaptation. Soderbergh's issue was that indie films were expanding their reach, but not as exponentially as big studio entertainment, most of which is dedicated to the younger audiences he had no interest in courting. Even when he tried to play ball, studios were not receptive to his visions for properties like The Man From U.N.C.L.E. favoring younger, hipper pitches.
Not to worry: The Knick looks great, and the talkative Soderbergh hasn't completely vanished from the film world, giving snappy interviews like this. Make sure to read the whole thing.
Your Daily Blend of Entertainment News
Your Daily Blend of Entertainment News
Thank you for signing up to CinemaBlend. You will receive a verification email shortly.
There was a problem. Please refresh the page and try again.