Steven Soderbergh Will Have His Hands All Over Magic Mike XXL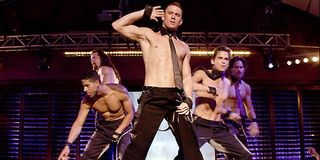 Many movie lovers are still doubtful of Steven Soderbergh's pledge to retire. Sure, he said Behind The Candelabra would be his last project, but since then he's helmed a new drama series called The Knick, and released his own personal cut of Heaven's Gate online. And while he insists he won't direct the sequel to his wildly successful Magic Mike, his collaborator and former star Channing Tatum has revealed that Soderbergh will be working behind the scenes to make sure Magic Mike XXL lives up to his legacy.
In a lengthy interview with GQ, Channing Tatum spoke candidly about Steven Soderbergh and the soon-to-shoot Magic Mike XXL, confessing that the original Magic Mike director would not only be the sequel's cinematographer, but also its camera operator and film editor. Notably, the first of these were roles Soderbergh also shouldered on Magic Mike.
Soderbergh explained his own intense involvement in Magic Mike XXL to GQ, saying:
Stepping in for Soderbergh in Magic Mike XXL's directors chair is Gregory Jacobs, who has been a producer and assistant director on a string of Soderbergh projects from Ocean's Twelve to The Informant! and Magic Mike, of course. Channing Tatum and his producing partner Reid Carolin have penned the screenplay for the Magic Mike sequel, and Tatum is expected to reprise his role as the titular ambitious stripper along with Matthew McConaughey. But aside from these character returns, Tatum and Reid have been shy to share where Magic Mike XXL's plot might lead. But it's safe to say you can expect more of this:
And probably a bit of this:
Magic Mike XXL will make summer a bit hotter when it hits theaters on July 3rd, 2015.
In other Magic Mike news, Joe Manganiello, who memorably played Big Dick Richie in the first film, has branched out from actor to director for an upcoming documentary La Bare. Its an expose all about those who expose, namely the men who strut there stuff and strip to the buff in the Dallas strip club La Bare.
Vulture tipped us to the film's trailer, which is red band and decidedly NSFW. Check it out if you dare:
In an official statement, Manganiello said:
La Bare opens June 27th.
Your Daily Blend of Entertainment News
Staff writer at CinemaBlend.
Your Daily Blend of Entertainment News
Thank you for signing up to CinemaBlend. You will receive a verification email shortly.
There was a problem. Please refresh the page and try again.