Steven Spielberg Will Direct Bradley Cooper In Iraq War-Set American Sniper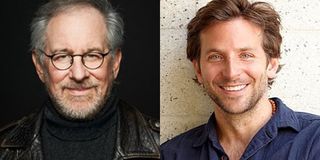 While he was in the thick of Oscar hype for Lincoln, Steven Spielberg seemed to be doing nothing but figuring out what he wouldn't make, bailing on a Moses movie and pushing back Robopocalypse. Now, as he prepares to travel to France and head up the Cannes jury, Spielberg has finally settled on his next movie, and it'll be taking him back to war.
Spielberg, according to The Hollywood Reporter, is stepping behind American Sniper, an adaptation of Navy SEAL Chris Kyle's autobiography that Bradley Cooper acquired nearly a year ago, intending to produce and also star. That was all before Silver Linings Playbook turned Cooper into an even bigger star, and now he's gotten a big director-- and recent fellow Oscar nominee-- to guide him. Having tackled World War II many times, World War I in War Horse and the Civil War in Lincoln, Spielberg will for the first time be telling a story about modern warfare, following Kyle's life as a sniper in the Iraq War. He was dubbed the "Devil of Ramadi" by Iraqis and, according to the title of his book, was the most lethal sniper in U.S. military history.
Kyle's story also has a bizarre tragic ending-- he was killed by a fellow soldier at a gun range earlier this year, after taking the guy there specifically to help him cope with PTSD. In an interview on Fresh Air Cooper said he was speeding up development of the project in response to Kyle's death, though it's unclear how they'll work the incident into hat was clearly intended as a different story entirely. But is anyone better than Spielberg at navigating that kind of tricky material-- particularly with a veteran involved? Not anyone we can think of, at least.
Your Daily Blend of Entertainment News
Staff Writer at CinemaBlend
Your Daily Blend of Entertainment News
Thank you for signing up to CinemaBlend. You will receive a verification email shortly.
There was a problem. Please refresh the page and try again.