Steven Spielberg's Robopocalypse Shifted Back To 2014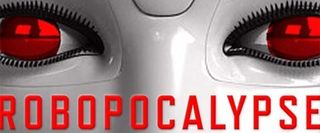 This doesn't sound good: Buena Vista has moved Steven Spielberg's anticipated adaptation of Robopocalypse from the choice July 4 weekend slot in 2013 to an April 25, 2014 release date, according to Box Office Mojo.
Cabin in the Woods director Drew Goddard adapted Daniel H. Wilson's novel for Spielberg to direct. The story takes place in a not-so-distant future where robotic technology is prevalent in our society. Then war breaks out when the machines that run everyone's daily lives turn against their owners. As Spielberg described it earlier, "It's a movie about a global war between man and machine. I had a great time creating the future on Minority Report, and it's a future that is coming true faster than any of us thought it would."
What could be the reason for the delay? We're just speculating here, but Robopocalypse sounds like it needs to be a effects-heavy blockbuster that will require a lot of time (and money) to pull off properly. Perhaps Spielberg felt he'd be rushing the process to hit a July 3, 2013 window? The director also might be knee-deep in post-production on his Lincoln biopic, with Daniel Day Lewis, and likely hasn't stopped to give Robopocalypse a second thought … also bad news for a blockbuster that's going to need a good deal of shepherding.
I also wonder if this means Spielberg will shoot Robopocalypse in 3D, and needed the time to do it properly. He dabbled in the technology with Tintin and claims to have had a ball.
But do you know who's probably thrilled by this news? Universal, who now gets to release Despicable Me 2 with little opposition. That is, if no other studio decides to move forward or back to claim a piece of the valuable July 4 weekend. Are you listening, Warner? Wouldn't Pacific Rim make for an excellent July 4 release? Or maybe Fox wants to drop The Wolverine in that slot? The possibilities are endless.
Movie junkie. Infatuated with comic-book films. ReelBlend cohost. Resident dad. Extroverted introvert. Wants to see the Snyder Cut. Managing Director at CinemaBlend.
Your Daily Blend of Entertainment News
Thank you for signing up to CinemaBlend. You will receive a verification email shortly.
There was a problem. Please refresh the page and try again.