Stills Stampede: Larry The Cable Guy Gets Naked For Witless Protection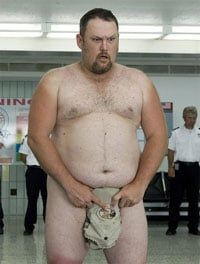 In Texas and all across the American south, Larry the Cable Guy plays at the kind of concert venue usually reserved only for the likes of U2. I'm not sure what enjoyment there is in watching stand-up comedy from the nose-bleed section of a 80,000 seat venue, but take a moment to imagine if you will, 80,000 rednecks guffawing at their favorite comedian, and just imagine how much money is being made in beer sales alone. I wonder if Larry gets a piece of the alcohol action?
Funny thing is, the guy's almost sick popularity hasn't really translated into box office success for him yet. Unless of course you count Cars, where he was hilarious as the voice of Radiator Springs' loveable tow truck Mater. But Larry the Cable Guy: Health Inspector and Delta Farce were barely blips on America's movie going radar. The white Tyler Perry he isn't.
Larry tries again two weeks from now with his new movie, Witless Protection. If Larry the health inspector and Larry the soldier didn't do anything for wife-beater wearing America, then maybe Larry the FBI agent will do something for you. Or better, how about Larry the naked FBI agent. Larry's supple, nude flesh is a part of the big batch of images Lionsgate sent us from Witless Protection this morning. I'm sure you've all enjoyed it.
See all of our new Witless Protection images in high-res by simply clicking on one of the thumbnails below and being whisked away from this page and its redneck nudity to our full Image Gallery.
Your Daily Blend of Entertainment News
Thank you for signing up to CinemaBlend. You will receive a verification email shortly.
There was a problem. Please refresh the page and try again.