Suicide Squad: Jay Hernandez May Be Playing El Diablo, Get The Details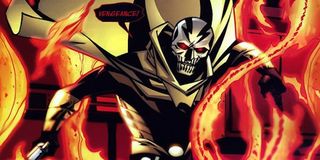 David Ayer's upcoming supervillain-driven Suicide Squad is rapidly picking up the pace. With Joel Kinnaman now filling the shoes of Rick Flag, a role previously offered to both Tom Hardy and Jake Gyllenhaal, the cast for the highly-anticipated DC film is quickly starting to fill out. Now it looks like Jay Hernandez may be set to take on the role of Chato Santana, aka. El Diablo, bringing the ensemble one step closer to completion.
The news comes to us by way of Latino-Review's El Mayimbe, who dropped the yet-to-be confirmed information on his Instagram. According to details, Hernandez is set to embody El Diablo in a small, almost cameo-like role in the upcoming film. He will be a prisoner locked in the "super powered criminal part" of the prison along with Killer Frost, King Shark, Block Buster, Live Wire and others. While Hernandez has officially been confirmed for the cast of Suicide Squad, don't get too excited about his playing El Diablo just yet, as this information is still only a rumor at this point.
In the comics, Chato Santana is a menacingly tatted up supervillain who can shoot fire through his body through his powers of pyrokinesis. Santana is the third El Diablo (preceded by the original Lazarus Lane and Fafael Sandoval), who fully gains his powers as El Diablo after the death of Lane. After his capture by Amanda Waller (Viola Davis), he is tested and tortured while on death row at Belle Reve prison before ultimately being recruited and officially inducted into the Suicide Squad.
While Hernandez doesn't bring a whole lot of buzz with him to the role of Santana/El Diablo, I do think he is fit to play the role. The fact that it sounds like he will play a very small part in the actual plot itself also leads me to believe they could technically have dug even deeper and cast someone even less-widely known. I'm guessing a big reason they chose Hernandez was they wanted a certain look, but one that is not without the acting chops to back it up (incase he does end up playing a larger role in the likely sequels).
Suicide Squad begins production in April and the film will hit theaters August 5, 2016. The script, which will pull from the classic comics as well as The New 52, was written by Ayer, who is also directing the film. The complete cast includes Will Smith (Deadshot), Margot Robbie (Harley Quinn), Jared Leto (The Joker), Joel Kinnaman (Rick Flag), Jai Courtney (Captain Boomerang), Cara Delevigne (Enchantress) and Viola Davis (Waller). Jesse Eisenberg is also rumored to play Lex Luthor, a role he can be seen playing in Zack Snyder's highly-anticipated Batman v Superman: Dawn of Justice hitting theaters a few months prior to Suicide Squad.
Your Daily Blend of Entertainment News
Thank you for signing up to CinemaBlend. You will receive a verification email shortly.
There was a problem. Please refresh the page and try again.